To see the original post on Eggplant or Aubergine that paired grilled lamb chops with Greek vinaigrette, click here.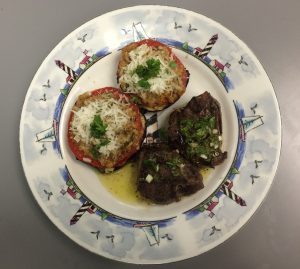 Set grill to medium heat.

Mix bread crumbs, shredded cheese, garlic and 1/3 cup basil in a small bowl; set aside.

Sprinkle eggplant and tomato slices with salt and pepper to taste.

Brush one side of aubergine rounds with oil. Grill, oiled side down, about 3 minutes, or until bottom sides are tender and marked by the grill.

Brush top side of eggplant slices with more oil; turnover and place tomatoes on marked side, then spread cheese mixture over tomatoes. Sprinkle with parmesan and drizzle with remaining oil. Cover and grill 7 minutes, or until cheese melts.

Transfer eggplant slices to plates. Sprinkle with parsley and serve.
Note: Get any size aubergine. Unless you're feeding 50, you probably won't use it all in this recipe, anyway.