We cast off our lines from Sackets Harbor, NY midafternoon on June 1st after finishing our final boat tasks. Our target destination was Kingston, Ontario, 28 nautical miles across the St. Lawrence River. Our late start made that impossible. Instead, we looked for a realistic destination and settled on Sandy Bay, at the western end of Wolfe Island. Wolfe is the largest island in the 1,000 Islands archipelago and part of Canada. Sandy Bay is not generally a place to drop anchor for an overnight stay. It has no protection from the prevailing westerlies, but the weather was calm and no wind was forecast. Plus, it was along our route to Kingston.
Random Meetings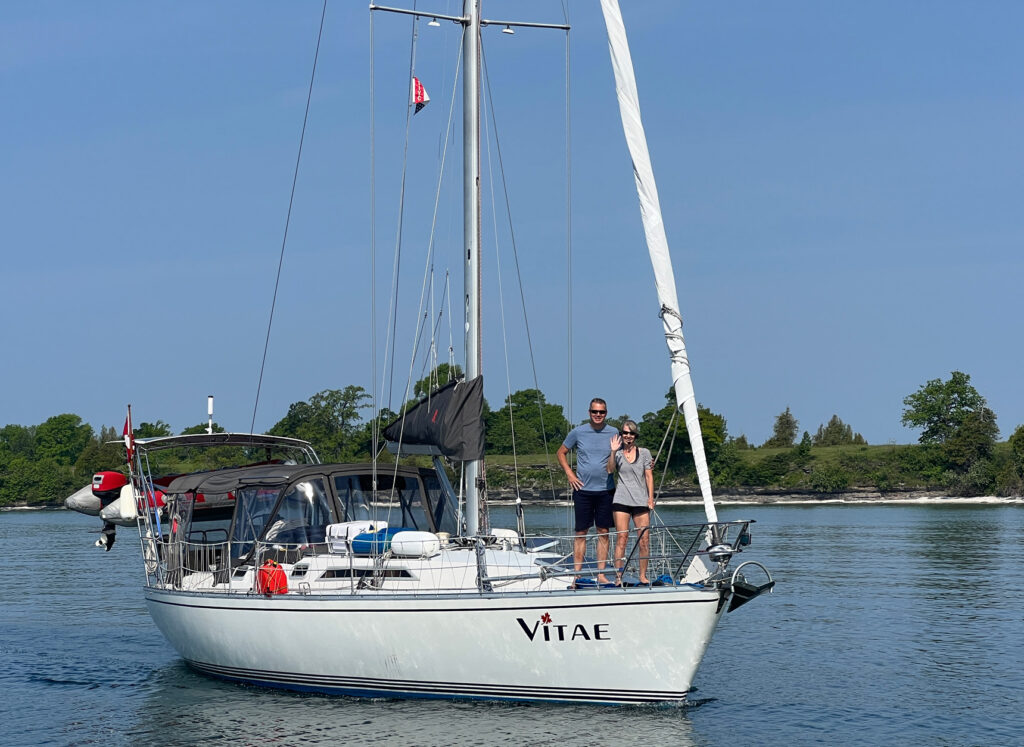 I noticed on our chart that a boat we knew, s/v Vitae, was underway; our friends David and Regina were in the area! The chart indicated they were too far away to hail on VHF radio, so I texted them. They had just dropped anchor in Sandy Bay! It took us a couple of hours to catch up but as we approached Sandy Bay, they were the only boat in the bay. Sandy Bay is notable for for the beautiful sandy beach all around.
After we anchored, David came over in his dinghy to ferry us to Vitae for Happy Hour, which then turned out to include a lovely dinner made by David. The four of us then headed to Gaviidae for after dinner drinks. Sipping Manhattans made by Dan, we discussed our plans for the summer as both boats are heading out the St. Lawrence Seaway.
First Stop – Kingston
Vitae and her crew departed in the morning heading for their home port of Gananoque. Not wanting to race out of the lovely bay, we did some boat chores before getting underway for Kingston. We arrived at the Kingston Yacht Club and tied up at the end of their outermost T-dock – the only spot large enough for Gaviidae.
The manager, staff and members of the yacht club were very friendly and helpful. On learning that the yacht club chef was making a Friday night special of Fish and Chips, we signed up immediately. The dinner was excellent.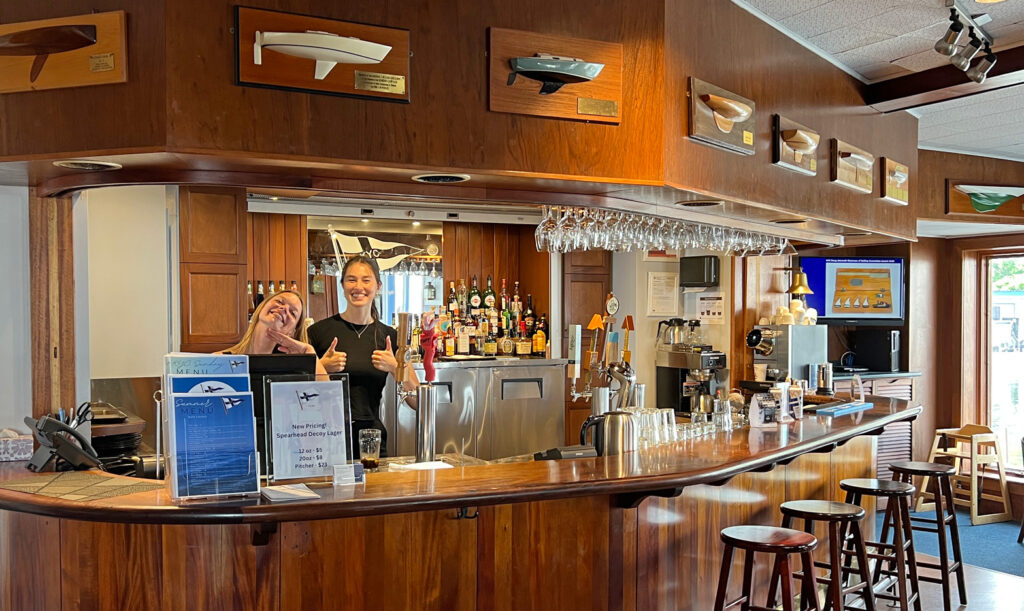 We learned last summer that Canadian yacht clubs typically have excellent food at very affordable prices. That was a bonus we did not realize when we joined the Thousand Island Yacht Club, based in Iroquois, ON last summer. We joined TIYC with recommendations from our friends on s/v Vitae. The next day we had a late lunch at the Kingston Yacht Club and I had one of the best Reuben sandwiches ever!
Visiting the Candy Stores
Kingston is the home of Marine Outfitters, a haven for everything boating. We had an order ready to be picked up while we were in Kingston. David also had business to take care of at Marine Outfitters and picked us up on his way from Gananoque. It's hard for sailors to get out of a marine store without exploring every aisle just to see what you might "need". David was graciously patient in waiting for us to finish exploring this candy store for boaters. David still managed to spend more than we did!
Our chauffeur then took us to the LCBO (a candy store of a different flavor) where we stocked up on far more than we should have, considering that we would be crossing the border again. But we've learned that US Customs doesn't much care how much alcohol you have on board. Can't say the same for going into Canada. We now just tell Canadian Customs when we cross the border that we have "bar stock" and none of our stock will leave the boat.
Loon Time
We endured a few extremely rough nights at KYC where we were pinned to their dock. We ended up staying a day longer than planned because of the wind. The winds finally changed direction and we were able to cast off. We had a lovely, slow sail to Brakey Bay on Wolfe Island where we dropped anchor along a wooded, shoreline some distance from the cottages deeper into the bay. Our arrival was greeted by a loon – always a good omen for us.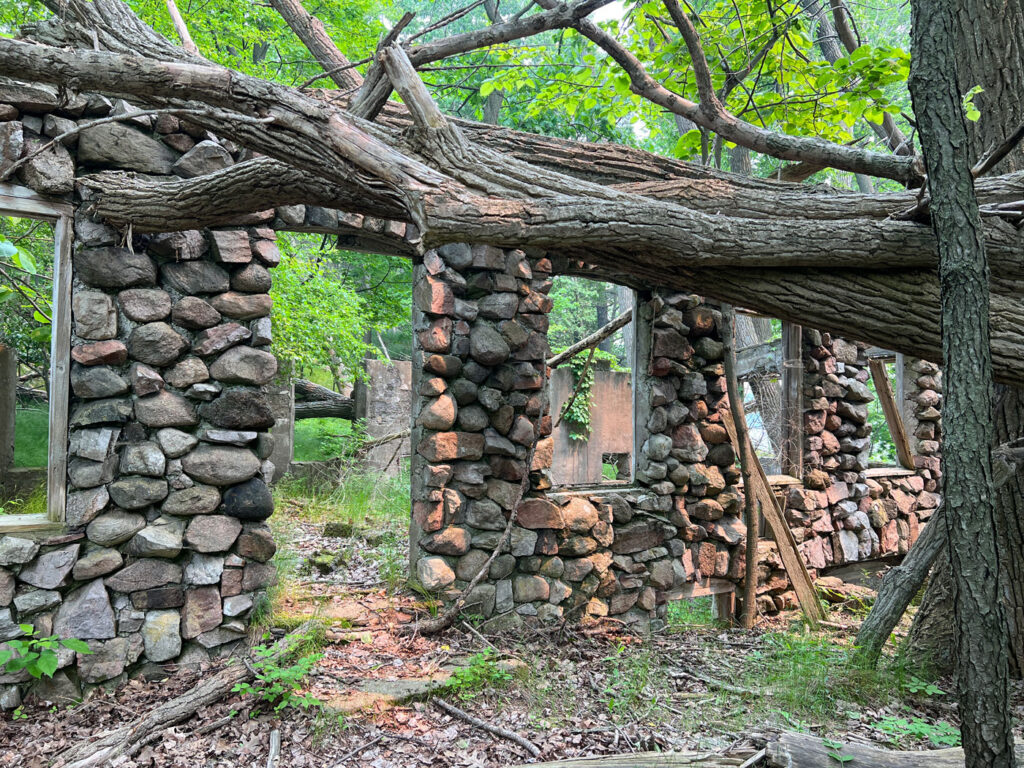 While at Brakey, a heavy haze descended, and the air smelled like we were next to a bonfire. The smoke from fires in Quebec had blown southwest on the same wind that detained us in Kingston.
We departed Brakey the next morning in the haze, unloading a huge pile of weeds and mud from the anchor. We headed to an anchorage on the southwest side of Leek Island. Or is it Thwartway. Maybe both. Originally called Leek, Parks Canada refers to it as Thwartway Island. It is listed as both on our charts and other travel materials. We had intended to stay one night but we were greeted by two loons who really did not care that we were invading their space. We had the entire bay to ourselves, which solidified our decision to stay a second night.
Tiny Island Exploring
We went ashore and not sure how much it cost to visit the island, we put all our laundry coins into a Parks Canada envelope and dropped it into the slot. Technically the box was for mooring fees, but we weren't using any of the park mooring balls.
We followed the path and came across the remains of the original home on the island. Figuring there were more trails to be found, we circled around the perimeter of the island. We did not find more trails, but we still got to explore a good portion of the island. In the process we scared a small snake, came across various types of scat, and somehow managed to return to the boat tick free despite bushwhacking through tall grass and brush!
From Thwartway/Leek we crossed back into New York and continued to Picton Island, with numerous diversions into various bays and anchorages to photograph and explore for Great Lakes Cruising Club Harbor reports. Picton which is privately owned, has a lovely bay with only one home on shore, It was out of sight, depending upon how far you went into the anchorage. Again, we were the only boat there.
Clayton, New York
Enjoying the morning, we slowly got underway to Clayton, NY: a whopping 2.4 nautical miles. We arrived at the marina and immediately headed to their Farmers Market for eggs and fresh produce. Not finding all that we needed, we continued to the grocery store. We bought far too much and then had to schlep it back to the marina. We found out later that we could've had it delivered!
Just One More Day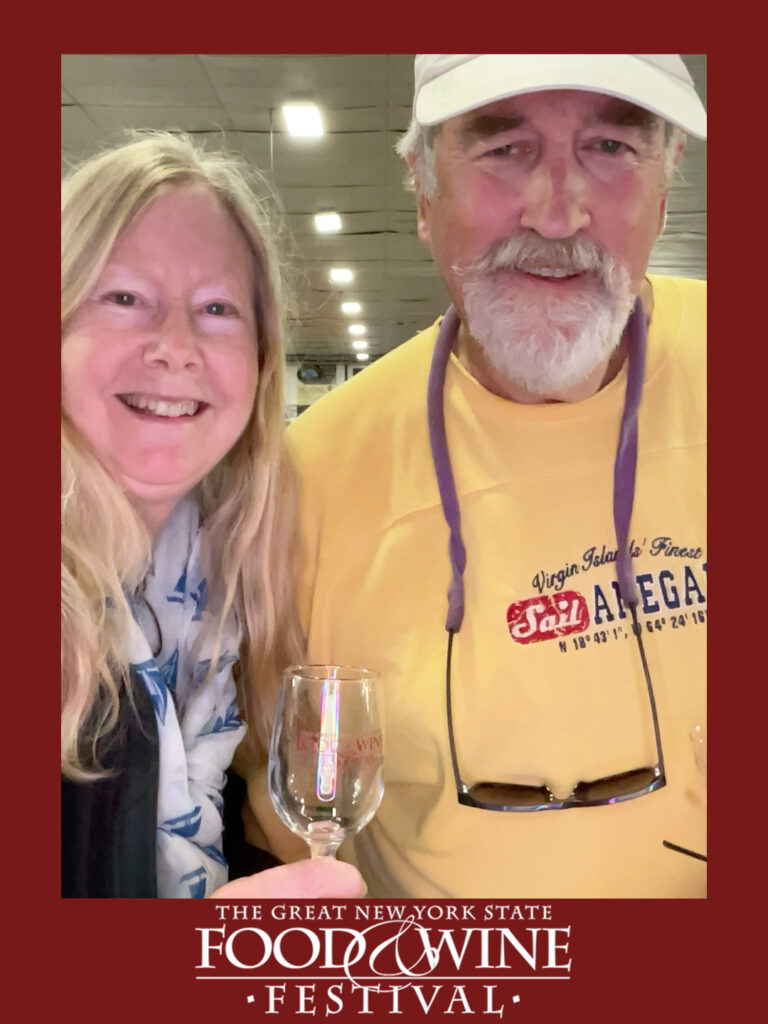 We ventured into the downtown area and found Di Prinzio's Kitchen, a wonderful restaurant for dinner. While there we learned the New York State Food and Wine Festival was going to start the next day. We intended to continue down the St. Lawrance but when we got the name of a sorta/kinda taxi service called The Chug Wagon, we decided to stay. True to their name, their normal business is to give rides to those who have overindulged adult beverages!
We walked to the Festival and enjoyed our time sampling various food items and wine. Most of the wine was "meh", according to Dan. Thank God for spit buckets! But we did find a few wines we liked. With more than a few bottles to carry back, we were very happy to have the Chug Wagon give us a ride back to the marina. Turns out the Clayton Municipal Marina harbor master was the driver's daughter!
Powerboat Heaven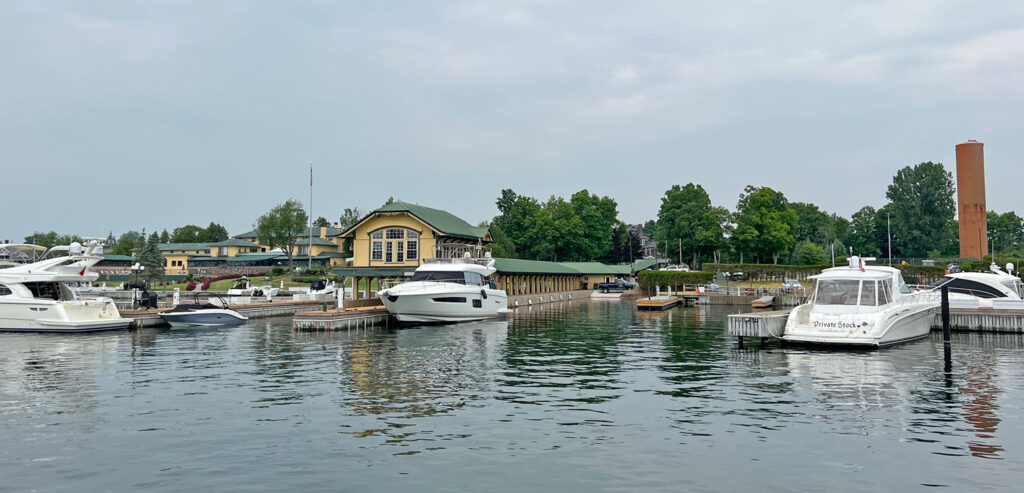 A short distance down the river from Clayton, is the town of Alexandrea Bay. While it's only 12 nautical miles, the difference in personalities was amazing. Clayton is a quaint, quiet town with lots of boats but there is a healthy mix of both sail and power. Alex Bay, on the other hand, has 99.999% power boats. And not just big cruisers; there were a huge number of go-fast boats. The kind that burn 5 gallons of fuel every minute and roar past at 50-60mph. Racing boats are a huge part of the history of the area, going back to the 1930s when the wealthy invaded the area and started building outrageous homes.
The Boldt Castle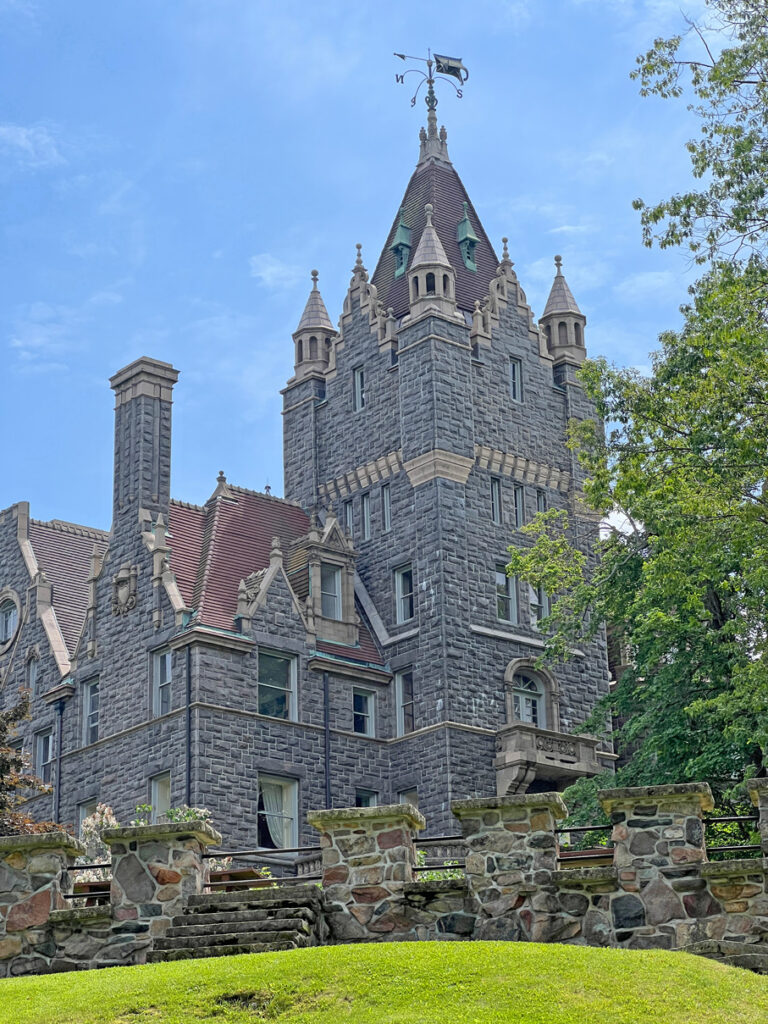 One of those homes is the Boldt Castle. The castle was built by hotelier George C. Boldt for his wife Louise. He bought the island from a fellow named Hart who named it after himself. Bold bought Hart Island and had the naturally oval island tweaked to the shape of a Heart. It is now known as Heart Island. It's the primary tourist attraction in the area, and everything we read said it was a "must see" attraction.
Across the bay was the Boldt Castle Yacht House and we took a shuttle across to see it. Inside the giant boat house were numerous vintage race boats along with private cruisers. Clover, Boldt's daughter, had a passion for racing boats and was quite good – an unusual skill for a woman in those days.
There is an extensive docking area on one side of the island. Most is for the tour boats but there is a large section for private boats. We took Gaviidae over and tied to the dock. We ended up spending the entire day there, taking a break for lunch back on the boat. The history and craftsmanship were amazing and the grounds were beautiful.
Sad History
Unfortunately, Louise Boldt died before the castle was completed and George ordered all work to cease immediately. The skilled tradesmen, who were from all over the globe, were immediately out of work. Fortunately another huge estate was underway and they were all immediately put to work building the Singer Castle–of Singer Sewing Machine fame. After the death of Louise, the Boldt property was left to languish for the next 60-70 years.
The Boldt properties are now in the care of the Thousand Islands Bridge Authority. They continue working to restore and finish the castle.
We spent the night at the Thousand Islands Club on Wellesley Island, slightly upstream from Heart Island. Again, we were reminded that we were in a power boat haven as we were the only sailboat in the entire bay!
The Summerland Group
East of Wellesley is a group of islands called Summerland. With winds predicted from the southwest to southeast, we needed a spot that would protect us as the winds shifted. We found a spot tucked between two islands of the Summerland Group. There were homes on both sides but the boat traffic was minimal and we spent two nights tucked into the protection of the natural bay while we sat out some major rainstorms.
Smith Island/Brockville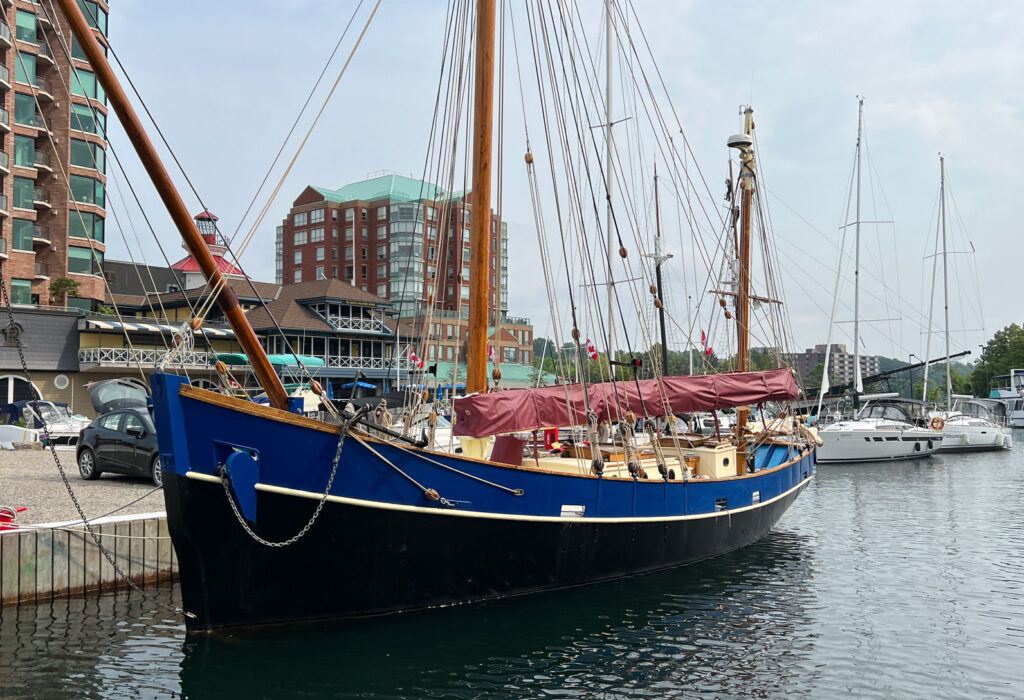 From Summerland we proceeded down a channel of islands following the small boat track and away from the commercial shipping traffic. The St. Lawrence River is the only route available to cargo ships between the Great Lakes and the Atlantic Ocean. One-thousand-foot-long "Lakers" and 600-foot "Salties" regularly ply the main channel of the St. Lawrence in both directions. We figured we'd have more than a few encounters with the "big boys" and their massive wakes further down the river. We anchored one night near Brockville, ON and then spent two rainy nights at the Brockville Marina.
Iroquois Locks
On Friday we had planned to go to another anchorage as the forecast was for thunderstorms. But the weatherman kept pushing back the storms and we decided to take advantage of the dead calm and head to the first of 8 locks on the river, the Iroquois Lock, 22 nautical miles downstream.
We booked a 2:00 p.m. timeslot to transit the lock with instructions to arrive one hour before. With the current pushing us over 9 knots at times, we arrived exactly one hour before our reservation. We tied up to the wall and hailed the lock on VHF channel 68; the lockmaster instructed us to cast off immediately and head into the lock.
The time was 1:10 p.m. and we had Gaviidae decked out with raggedy-assed t-shirts over her new fender covers. We also had 2×2's recently acquired from Home Depot ready to fend off walls or other boats that we might encounter in the event of turbulence in the lock. We were ready!
As we approached the lock gate it opened and the lockmaster instructed us to move to the middle of the lock. By the time we got to the middle and before the doors behind had closed, the doors ahead of us opened and he waved us through. No tying up, no scraping fenders, no lost boat hooks! By 1:15 p.m. we were on our way to our next stop. It was our easist and fastest transit of any lock we've encountered thus far, including locks on the Erie Canal, the Soo Locks between Lake Superior and Lake Huron and locks on the Midi Canal in France!
Crysler Park
Our next stop was Crysler Park Marina near Morrisburg, Ontario. This is where we left LoonR Rover (our RV) in storage. The marina is very close to Upper Canada Village, a historical 1860s working village with about 50 buildings including an operational sawmill, blacksmith, bakery, cheese factory, and gardens that produce the vegetables used in the restaurants.
Our stay at the marina included two complimentary tickets. We thought we'd stay a few hours and then run errands near Ottawa. But we found the self-guided tour to be so interesting that we stayed the entire day. We were greeted by a person in period dress in each building who would discuss life and details with us as though it was the 1860s.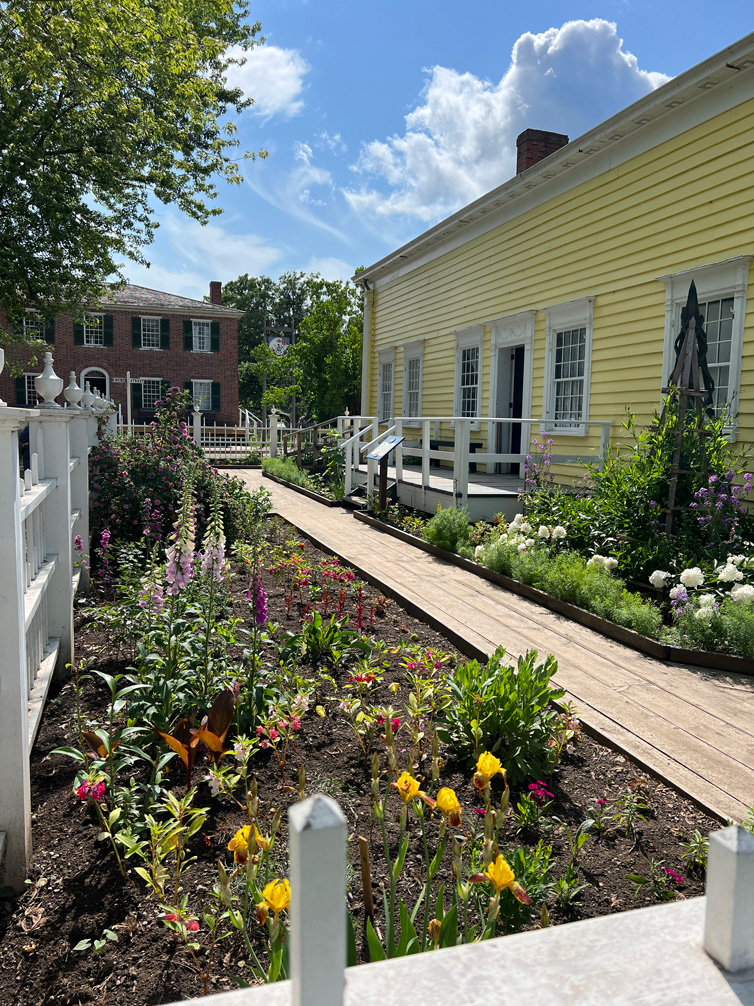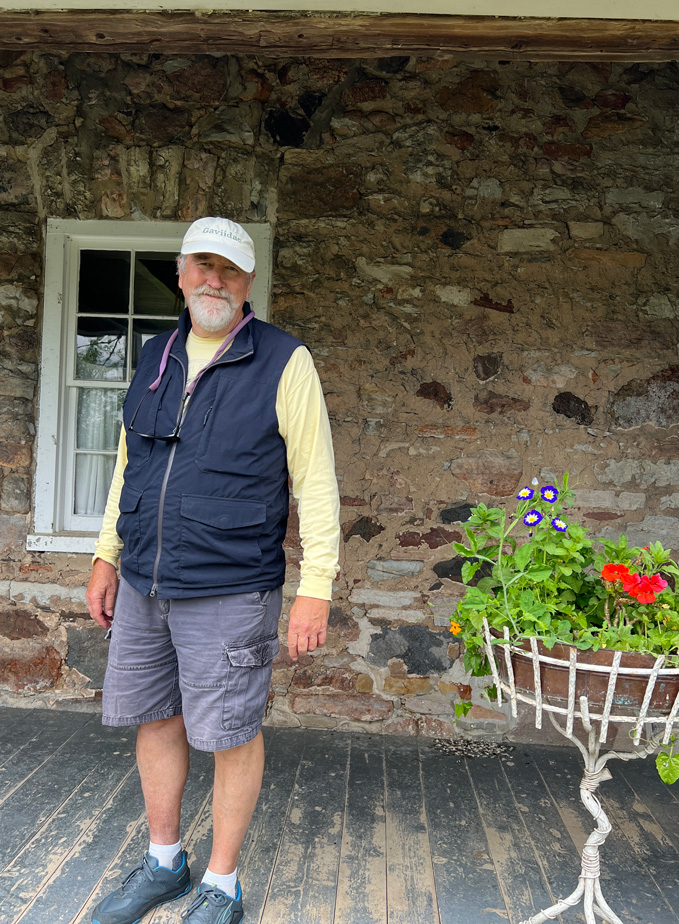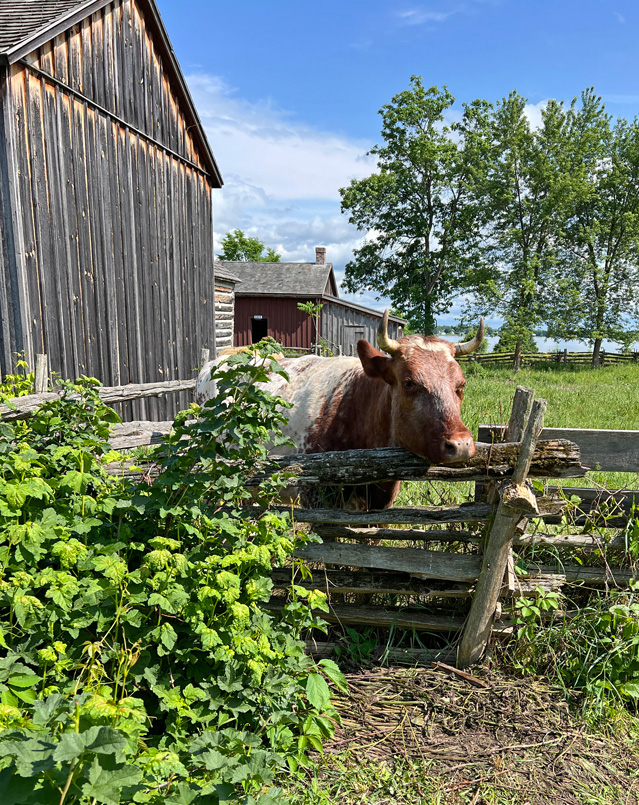 Many of the buildings were moved to the Upper Canada Village location when the towns and property where they were built 100-to-200 years ago were going to be flooded with the building of the St Lawrence Seaway in the 1950s.
We came across numerous gardens, including one that had a huge lovage plant by the fence. A gardener was actively hoeing and I asked him about the lovage and then asked if I could have some. To my surprise, he cut me a big bunch of the wonderful herb after I explained that it is "the" secret ingredient in Bouquet Garni! It is now drying in the saloon on Gaviidae.
Onward
We departed Crysler Park yesterday morning and enjoyed a very slow sail eastward. Our destination was only 8 nautical miles, so we were in no hurry. We saw one Laker as we tacked back and forth across the river and the international boundary. When the big ship steamed upstream we were near the New York shore and far enough away that the wake was minimal. We anchored in the Croil Islands in US waters. Barely. If we had dropped anchor about 100 yards north, we'd be in Canada. Nonetheless, we were visited this morning by an Ontario Provincial Police boat wanting to know our nationality and wondering if we knew where we were and what our responsibilities are for crossing the border in either direction. We assured them we had cleared into the US and we had made sure our anchor was in US waters. They were friendly and courteous and bid us a safe journey to Halifax.
June 1 – 21, 2023 136 Nautical Miles  44°58.923'N  074°58.5177'W