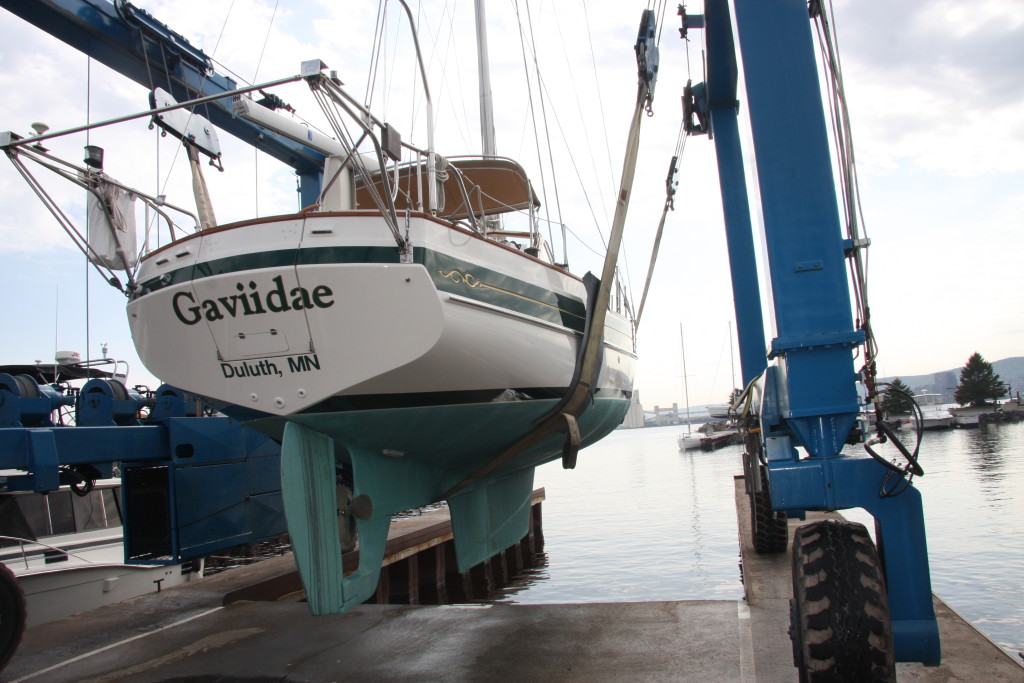 Naming a sailboat can be a complicated and taxing process. You want a name that is not so common that people hailing your vessel get numerous responses. The name also has to roll off the tongue: forcing someone to hail "Toy Boat" three times signifies a perverse sense of humor.
When we bought our Gozzard 37, she had another name given by her original owners. The original name apparently referenced a Scottish lake known for its alleged swimming monster.  For a variety of reasons, Julie and I decided to rename her. Choosing a new name was a drawn out process to begin with, but we also had to go through the renaming ceremony to calm the assorted sea divinities who might get roiled in their confusion about her identity.
Our original intention was to keep a theme established with our previous boat, a navy-hulled Rhodes 22 we called Blue Loon. The name Blue Loon was inspired by our abiding love for Minnesota's state bird: the Common Loon (gavia immer). Julie grew up on a northern Minnesota lake listening to the hoots and wails and warbles of resident loons. Her enthusiasm was infectious and we still drop what we are doing or even wake one another at all hours of the night to listen to their lunatic choruses. Blue Loon was conceived after a dinner party with sailing friends shortly after we acquired the boat. Naming the boat was much in discussion that night. On our way home, the classic Rodgers and Hart ballad Blue Moon played on the radio. Thinking about the term "blue moon" in French, we came up with la lune bleu, and twisted that into Blue Loon.
 Color Discrepancy
As it turns out, we bought a white hulled cutter with a green accent stripe, so Blue Loon made little sense. We researched Native American words for loons and while local Ojibwe lore credits the calls of the loon as the inspiration for Native American flutes, we decided neither bloza (Lakota) or maang (Ojibwe) rolled off the tongue. However, the Latin name for the loon family, Gaviidae (pronounced "gaav' uh day", seemed uncommon enough to serve as the basis for the boat's new name: Gaviidae. The name still references a proficient swimmer, but there is nothing monstrous about the elegant lines and sturdy build of our smooth-sailing Gozzard. And if you listen closely, you might just hear the call of a loon as a wind whistles through the rigging.
The Second Gaviidae
In 2017 we purchased a 2003 Gozzard 41 and sold our G37. There was no question that the new boat would be named Gaviidae. The surprise was with the new owners of the original Gaviidae – they also wanted to keep the name. And so it is – one solid green Gozzard 41 and a white with green stripe Gozzard 37, both known as Gaviidae.
The Loon Family photograph was taken by my brother-in-law, Neil King.