The LoonR Rover now has over 6000 miles and has taken us through 16 states as we circled the outer perimeter of the U.S from Pennsylvania to the Olympic Peninsula in Washington. My last post had us in Laguna Beach, California where we ended up staying close to six weeks. I should rephrase that – we used Laguna as our 'basecamp' for exploring southern California.
Circling Laguna Beach
Street cleaning in Laguna occurred every Wednesday morning. Since that required that we move LoonR off the street or risk get towed, we used that as an excuse to venture elsewhere and explore an expanding circle beyond Laguna Beach. We visited some wonderful places as we explored and tested out our skills boondocking (off-grid camping).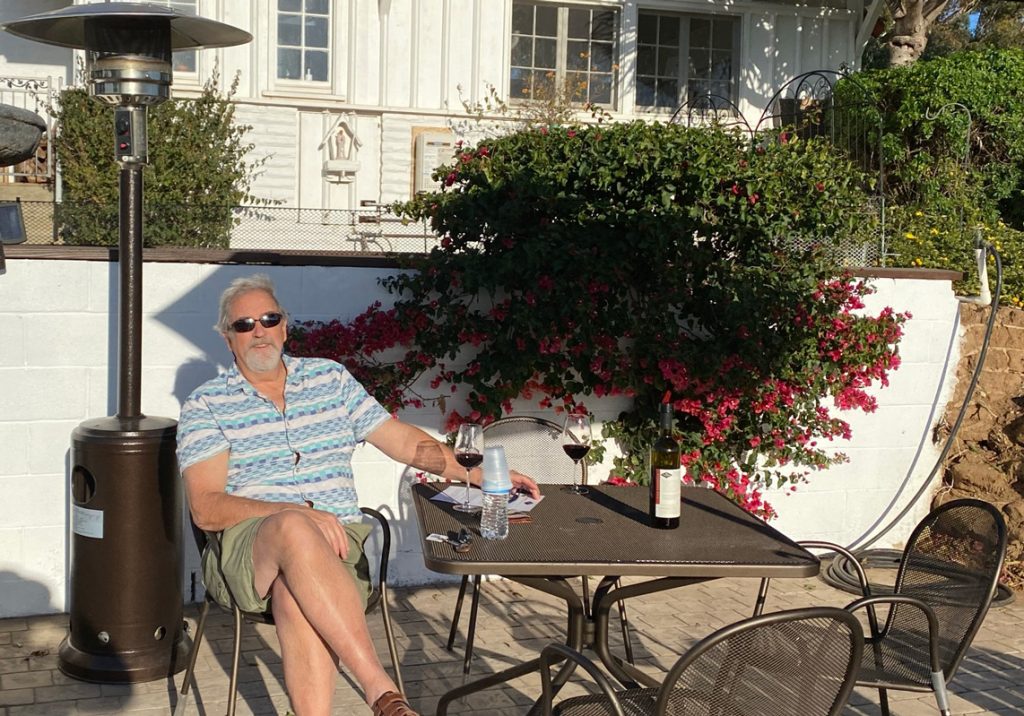 Our mid-week wanderings took us to Romiglio Ridge, a small winery near Fallbrook where we enjoyed a private wine tasting while sitting on a lovely patio looking over the vines and watching hummingbirds take baths in a small waterfall. Tying street cleaning to Dan's Covid vaccine, we stayed in a charming county park in the hills above Oceanside where he received his second shot.
Lessons Learned
Learned a bit along the way as well. Not just about wine! Little things – like if you leave the refrigeration running on battery all night instead of propane, you will most certainly drain the entirety of the house battery bank. And yes, there is a reason why you double-check every door latch before departing. Our Persian rug is now getting a much-needed cleaning after having garlic jam crash onto the floor when the pantry door flew open. You would think these would be lessons we would have learned on Gaviidae as sailboats have a tendency to heal at unexpected moments!
The California Park System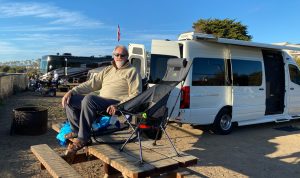 California has a huge number of state parks. They also have a huge population that enjoys these parks and we found that the premier parks are booked solid 6-12 months out. People wake up at ungodly hours to reserve their perfect spot when the reservation slots open. Perhaps it was due to Covid but we managed to get lucky and got one night on the water at South Carlsbad State Beach. Since we were already inside the park, we made a spontaneous decision to stay a second night taking over a last-minute cancellation.
Similar to our sailing style, we've learned about our wanderings on dirt – when we get someplace that is pristine, we simply want to stay put and appreciate the views and environment around us. Which is precisely what we did at Carlsbad – why go anywhere when you can listen to the waves and watch squadrons of pelicans zoom by at eye level.
Santa Barbara
We were invited back to Santa Barbara for a housesit by Chica (dog) and Smokey (cat) – two adorable critters with personality plus. The home is surrounded by gardens and fruit trees and has a lovely swimming pool which we enjoyed on a daily basis. While swimming, we would smell the aroma of flowers wafting around – with a smoky/sweet smell that I will forever associate with Santa Barbara.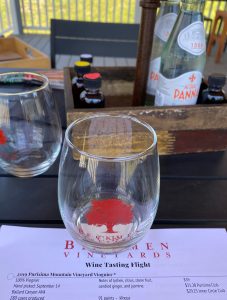 Our stay in Santa Barbara was far too short but another pet sit was waiting. We departed with fresh picked oranges from the backyard tree and headed north to our first stop at Beckman Vineyards for an afternoon tasting. Of course we departed with more wine than we actually had room for in the LoonR Rover.
Northern California
Last year we travelled from Washington south to Laguna Beach following the coast as much as possible. Our timeline this year did not allow for a repeat trip along the coast highway – plus a big section of the highway had been washed away in the Big Sur area. Part 1 of that prior trip was posted last year; I promise to get Part 2 posted "soon"! It's written, just need to massage the images.
So rather than sticking to the perimeter, we headed north through the middle of the state. Some would say it's not as interesting but the drive gave great perspective to the food producing capabilities of California. Hundreds of miles of vineyards, lettuce, strawberries, and fruit trees – amazing!
The Journey
Trying to limit the number of hours we drove each day – umm, I should say that Dan drove each day, I used my variety of apps, maps, etc. to find places to stop. We boondocked at Mt Figueroa for two nights and enjoyed lovely campfires each evening. With no connectivity to keep us tethered, we went for hikes, watched the stars, and chilled. The drive up to the campground and back down had some extremely sharp hairpin turns – must be why they discourage any vehicle longer than 25 feet. These roads made the Coast Highway look easy!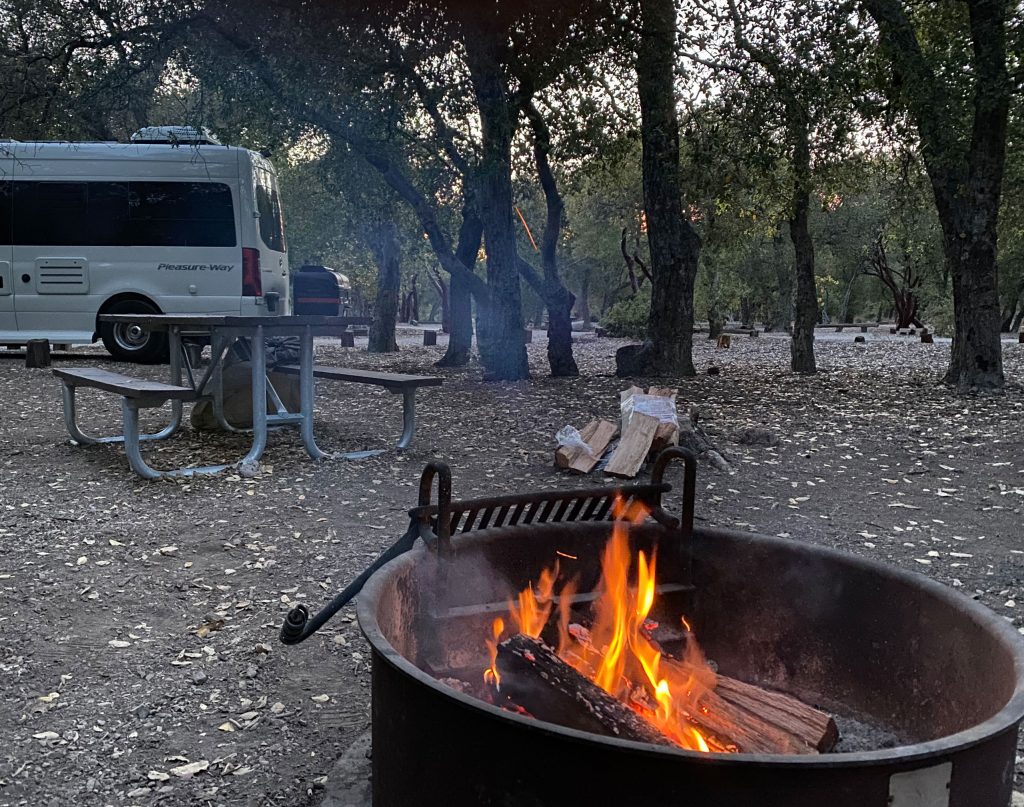 We stopped a few other places along the way and ended up in Red Bluff CA at a swanky RV park with fountains and a heated pool. Okay – pretty much anything above an outhouse is swanky after boondocking! Our site backed up to the fountains and in the evening, the Spring Peepers were in full chorus. I love Spring Peepers! With temperatures promising to be in the mid-eighties, we decided to stay a second night. When would we see temps in the 80's and go swimming? Probably not for a few months!

And those fresh-picked oranges? Dan squeezed them and made wonderful Mimosas which we shared with our immediate neighbors. They might have been a little on the chewy side with the excess pulp but nonetheless, a treat for a non-driving day!
Heading to Portland
Our trek along Interstate 5 took us towards Mt Shasta crossing the Sacramento River numerous times. I thought for sure we'd be stopping in Weed, CA to buy a t-shirt or two but Dan just kept driving on through. Lost opportunity – next time!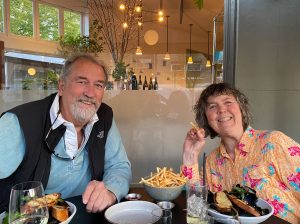 We stopped in Portland to visit my friend Brodie and meet her new rescue dog Bandit. I actually got him to come to me once – but just once. Bribing him food didn't work either. Some critters have no taste. And we actually went out to a restaurant and had a lovely dinner – sitting outside of course! But still – an actual restaurant! Someone reading this many years from now will probably wonder what the big deal was about going to a restaurant!
Back to Port Ludlow
We arrived in Port Ludlow to take care of Riley (the pooch) and Oscar (the cat) while their owners ventured to the east coast to visit relatives for the first time in a year. Now that everyone is getting their vaccinations, a new freedom is being enjoyed.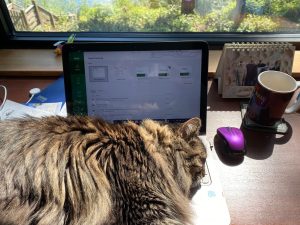 Glad to help facilitate this freedom as I was in desperate need of some critter cuddles. I wonder if the owners will notice Oscar missing when we depart – he has become my shadow. Follows me everywhere – bathroom, upstairs, downstairs – and always purring. He's currently snuggled up to my arm trying to help with my typing. Sometimes he just lays down across the keyboard.
And while I type away, I can look out and see Mount Baker and Mount Rainier across the Hood Canal.
Naming your RV – it's a Nomadland thing
As I mentioned in my previous posting, Dan was adamant that we were not going to name our traveling winter home. But I've been known to ignore his wishes on occasion. Surprised? He should be happy I didn't start calling our four-wheeled vessel Waldo!
While here in Port Ludlow, we watched the movie Nomadland. Cracked me up when the characters asked each other what they named their traveling home! Didn't know we were joining a trend! LoonR Rover – yes!
Full Circle
In a few days, we will start our trek east where we can say that in less than 12 months, we have circled the perimeter of the United States – almost. Still need to get Maine and the other NE states into the loop. Next time.