Got on board a westbound seven forty-seven may sound familiar to many but Dan was surprised that I knew the song – he figured I was too young to have heard it. How sweet. The song It Never Rains in Southern California was recorded in 1972 by Albert Hammond and parts of it describe our most recent adventures to the sunshine state.
Seems it never rains in southern California
Seems I've often heard that kind of talk before
It never rains in California, but girl, don't they warn ya?
It pours, man, it pours
Westbound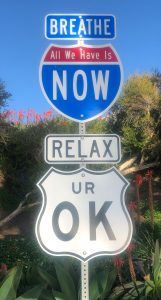 In early January, we headed west to California's legendary Orange County and the seaside city of Laguna Beach. While there we stayed at the cool little bungalow owned by my Women Who Sail buddy, Brodie, and her sisters. It was their late father's home and they maintain it as a retreat for themselves and for friends. Everything we wanted to see and do is within walking distance from the bungalow. We had a great time while there hitting the Farmer's Market, exploring the tide pools, and taking long strolls along the beaches and shoreline cliffs and downtown areas of this popular surfer's destination.
In fact, we walked so much that I had to stop one evening and buy a pair of socks to prevent blisters on my feet. I should know better than to go sockless in sandals after months of wearing regular shoes and socks! I got some pretty cool socks covered in bright flowers stating "I'm a delicate effing flower" – you can substitute the words as necessary.

While in Laguna Beach, our friend Nancy flew in from St. Paul and Brodie flew in from Portland for a little weekend get-together. Nancy is a longtime sailing friend and we sailed together, along with Brodie, at a couple of Women Who Sail Rendezvous. As it was Nancy's birthday, a small contingency from the local Women Who Sail gang joined us (along with their dogs) for a little reunion. And Dan held his own, surrounded by laughing women and crazy-ass dogs.
Northbound
As the weekend wrapped up, we packed our bags and headed north in our rental car with Brodie. From the back seat, she guided us to her sister's place in Santa Barbara. The trek north was for a house/pet sit – one that was a bit unplanned by my usual standards (You can read about how schedules can change here.) Parked on the terraced slope of a hill in the mesa district just outside central Santa Barbara, the house overlooked the surrounding area with a great view in three directions. After giving us thorough instructions, Brodie's sister departed for India and Brodie headed home to Portland.
The Pets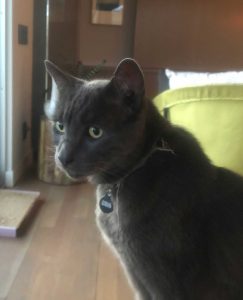 Our wards consisted of one dog and one cat. The two pets would occasionally interact with each other, but they mostly just shared air space. Chica, a blue healer, was an in-your-face (literally) pooch who loved to play fetch but refused to return the ball. Smokey was a huge gray cat who could purr and bite at the same time!
With a little bit of food bribery, we had some success getting Chica to release the ball. After a few days, Smokey decided we were okay and claimed us as his "humans". This meant he would let us sleep on the bed, if we were nice. And the purrs were no longer accompanied by bites except a little nibble every now and then.
It pours, man, it pours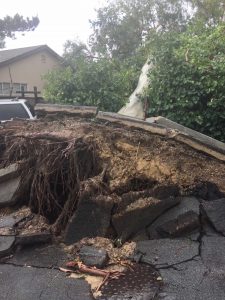 We've been in plenty of rainstorms and thunderstorms over the years – the Midwest is famous wild storms and spectacular lightshows. I have to say – even the biggest thunderstorm did not hold a candle to the monsoons in California! And the concept of a mudslide – didn't really get that. Now I do!
During our stay in Santa Barbara we have several rounds of major rainstorms. I'd look out and think "wow, it's really raining hard." Turned out that was just a drizzle compared to the deluge that followed! And the wind! Patio furniture and cushions flying all over the place – and me in my lightweight rain jacket running around the yard catching them as they flew by. I'm happy to report that all cushions and chairs were captured and sequestered in safer places.
As for Chica, the pooch – she was no dummy. No way in hell was she going out in that to relieve herself– regardless of how long she had to hold it. Fortunately, it let up just long enough for her to do her business and drag one of her soggy tennis balls into the house.
Dog Walking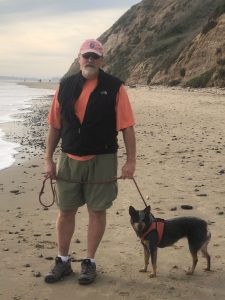 A benefit of housesitting with a dog is that you are required to go on walks. Just down the hill was an easy stroll to the ocean or, if you went the other direction, a huge reserve that ran alongside the Burro Arroyo creek. With the rains we got to see it go from a small stream to a roaring river. A bonus was that Chica got to go crazy in some major mudpuddles.
Please read the "just down the hill" with a touch of sarcasm. This was a kick-ass hill that had either your knees or butt screaming depending upon your direction. There were a couple of times I thought I would have to call an Uber to drag my ass home.
The Super Blood Moon
We had the privilege of being in Santa Barbara for the Super Blood Moon. That came with two distinct benefits. First, the tides were incredibly high and we got to see Hendry's Beach disappear completely. Even the locals were amazed at how high the tide was. The second, of course, was the Moon itself. We had the perfect vantage to watch the full show. Unfortunately, our iPhone cameras just didn't do it justice and we had left Dan's real camera back in Minneapolis.
Exploring
No housesit would be complete without exploring the surrounding area. And exploring is even better when we are able to connect with friends who are also in the area. Two of those friends are Bob and Ilona, who just happened to be in Venice Beach. Our tradition of connecting with them in far away places continues! We had a lovely afternoon wandering the docks in Santa Barbara and partaking in some delicious seafood from the Santa Barbara Fish Market.
A few days later, Dan and I drove through part of the burn area around Malibu to visit a friend of Dan's who saved his house by pumping water from his pool. It was very easy to see how 50mph winds could whip burning embers across the valleys and leap from one area to the next.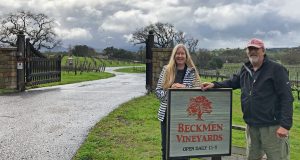 We also drove to the Solvang area with friends from Minnesota and explored a couple of vineyards around Santa Ynez. And since we were in the area, a stop at the Hitching Post II for dinner was a "must do". The Hitching Post gained fame from being featured in the movie Sideways.
And it Pours, Again
As the end of our stay approached, another front slammed the area dropping another 8" of rain over the course of two days. While we are very familiar with snowstorms creating hazardous driving, we learned that we had to watch the highway reports to determine whether any of the highways were closed due to mudslides. Fortunately (or not), the roads were cleared just in time for us to head back to Orange County for our flight back to Minnesota into a very messy and cold snowstorm!