The Bass Islands anchor the west end of Lake Erie. The lake is otherwise somewhat free of islands; 36 islands of any size dot the 240-mile-long lake by one count. Consequently, this 23-island Bass Island chain is a prime playgound for Lake Erie boats of all kinds: kayaks and canoes, fishing trawlers, houseboats, sailboats, big motor yachts, cruise ships and car-carrying ferries.
The three Bass Islands are the key attractions and the village of Put-in-Bay on South Bass is the star. TourismOhio, a state-run agency, estimates the 1,588-acre island with 150 year-round residents attracts 750,000 visitors and vacationers every summer season. It is only somewhat facetiously called the "Key West of Lake Erie."
In addition to being a destination, the islands are a popular lay-by for boaters going to or coming out of the upper lakes. Like us. Julie and I overnighted in Pelee Island in 2017 as we were headed to Lake Huron with our newly acquired Gozzard 41. The winds and waves favored Pelee over the Bass group just a few miles west and southwest. Coming back from the upper lakes this past July, we made for Middle Bass in the Lake Erie Islands group. We decided to avoid the expected chaos of back-to-back Canadian and U.S. celebrations at Put-in-Bay.
Boys' Week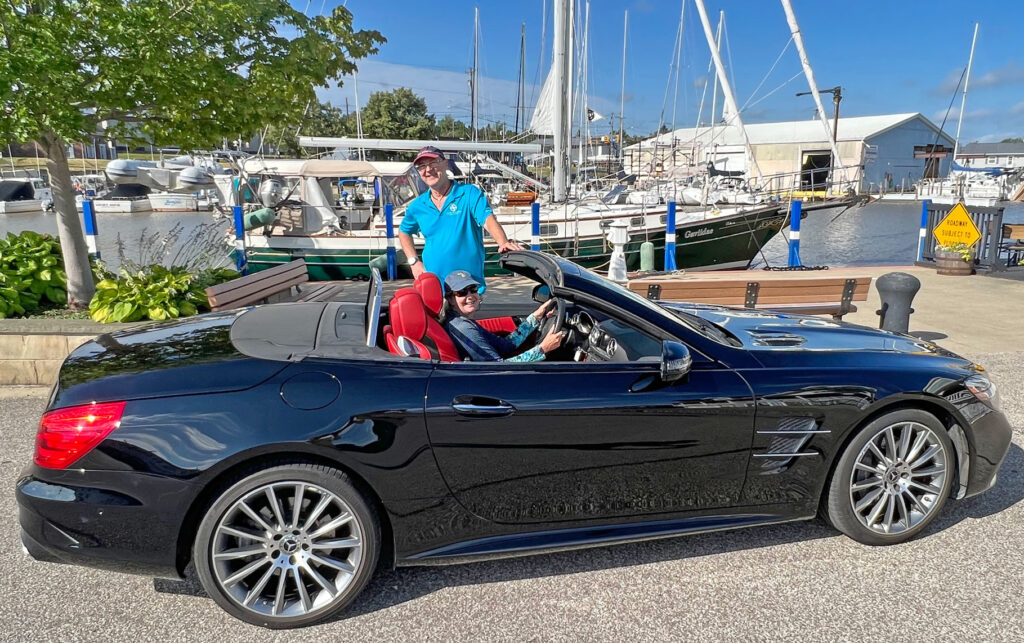 Julie was scheduled to attend the annual Great Lakes Cruising Club (GLCC) Rendezvous in Mackinaw City, MI in early July. I had decided not to go, so I called our friend, Kevin Crothers, to see if he was interested in a week of sailing on Lake Erie. We first met Kevin and his wife, Kathy, after we found their Northern Lights Sailing Club burgee in Duluth when we wintered "Gaviidae 37" at Harbor Cove Marina. They were avid sailors and we became great friends. Then they moved to Florida and sold their boat!
Kevin had been jonesing to to get back on the water, so I invited him to join me on Lake Erie during Julie's absence. Kathy also had other plans during this time, so this was "boys' week" on Gaviidae.
When Kevin and I left Vermilion, Ohio for the Bass Islands on July 10, Pelee was part of our proposed itinerary. Winds were not favorable for a cruise to Pelee that first day, so we set a more westerly course for Put-in-Bay.
Pudding Bay
Put-in-Bay—misspelled as Pudding Bay on one early British surveyor's charts because, well, that's how it's pronounced–was a harbor of refuge in stormy weather for sailors. According to one explanation for the name, sailors would "put in the bay" when Erie's weather and seas got rough. The large bay became the base for the United States' fleet of warships commanded by Commodore Oliver Hazard Perry during the War of 1812 with Great Britain. Canada was still a British possession, so the Great Lakes became instrumental in the conduct of that war.
Perry sailed out from South Bass to meet the British fleet a few miles north and west. Perry's victory over the British fleet wrested control of Lake Erie and opened the door for American settlement in the hotly contested lands west of Pennsylvania to the Mississippi River. It also secured Perry's commemoration of a fallen comrade's last words, "Don't Give Up the Ship," thereafter in U.S. history books. A monument rising 352 feet above lake water level celebrates the lake battle; Perry's Victory and International Peace Memorial is a visual landmark for sailors for miles around.
The discovery that the soil and weather on South Bass and the nearby islands were conducive to grape production enticed grape growers and then tourists to the area. Put-in-Bay evolved into one of the most popular resorts in all the Great Lakes by the late 1800s and continues to be party central for weekend visitors boating in from Detroit to Cleveland.
Mooring Field
On arriving in Put-in-Bay, Kevin and I grabbed a mooring buoy a few hundred yards offshore and took a swim off the back of the boat. There are a couple small areas to anchor within the bay, but otherwise it is a sea of mooring balls. The weekend crowds were already gone by the time we arrived and there were only a handful of boats in the bay, so we had our choice of moorings.
Besides moorings there is a city dock with transient slips for visiting boats. The mooring field and the docks are managed by The Boardwalk Restaurant complex on behalf of the Put-in-Bay Port Authority. The Boardwalk sends a launch out to boats as they arrive and secure to a ball. The launch operator, a Coast Guard certified captain, collects the mooring fee and lets you know the fee includes unlimited free rides to and from town during hours of operation. The fee also covers access to showers and toilet facilities ashore.
Downtown Put-in-Bay
Refreshed from our dip in the bay, we hailed a harbor taxi and headed into town. We strolled around part of the downtown, which is jammed with bars and restaurants and assorted tourist traps. As with the mooring field, neither the streets nor the businesses were particularly crowded. We settled on an Irish pub for dinner. We considered sticking around as a couple bar venues were featuring live music, but the ride over from the mainland and the heavy Irish dishes sapped our energy and we retired to the boat before sunset. Later, as I relaxed in the cockpit reading, music from a versatile band in the village had me second-guessing our decision to return to the boat. But Kevin was already down for the count, and we stayed put in the bay.
Little Regatta
The next morning, approaching laughter and shrieks and whistles caught our attention. We emerged into the cockpit to see a fleet of tiny boats crewed by children racing across the bay toward us. We were soon swarmed by a mix of one-sail Optimists and two-person sailing dinghies.
A Monday morning sailing school out of the Put-in-Bay Yacht Club was underway in the mooring field. A couple of small motorboats with teenaged instructors were also in the melee blowing their whistles and zooming around in motorized skiffs.
There was just enough wind to keep the kids on their toes; a few boats capsized. The balls and the boats tied to them made for a regular obstacle course for the pint-sized pirates. We had a couple of near misses, including an alarmingly close pass nearly under Gaviidae's bowsprit. The young sailors provided plenty of entertainment while we breakfasted in the cockpit.
For some reason it reminded me of my first driving lesson at the wheel of our '59 Chevy pickup. It was 1963; I was 11 years old. I already knew how to drive a tractor; Dad was beside me in the cab of the truck. We were in an oat field littered with 40-pound bales of straw. If I hit any bales, I had to stop, gather up the straw and throw it in the back of the truck. I recall hitting just one bale.
Exploring
After the class, Kevin and I hailed the harbor taxi and ventured back into town. Our first order of business was to hit the aforementioned Perry Tower. When we arrived at the tower—a half mile hike from the city docks—the waiting line snaked halfway around its base. After waiting nearly an hour, I flashed my National Parks Senior Pass and we climbed stairs inside to the single elevator on the second floor. Park docents and rangers restrict elevator capacity to about five adults, and they restrict the number of people on the observation deck near the top of the tower. The scenery is spectacular in every direction. We had a clear, warm day with just enough haze to prevent us from seeing Cleveland, but we had commanding views of the Ohio and Michigan shorelines clear up into the mouth of the Detroit River.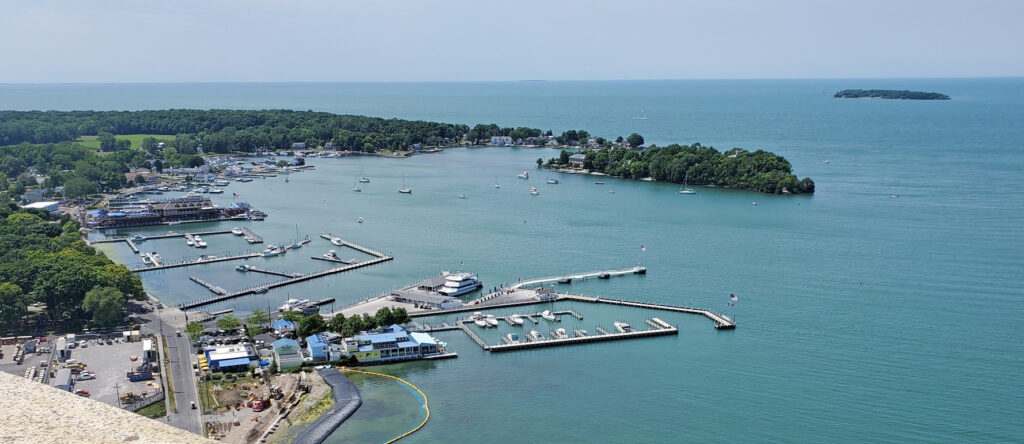 Zoom Zoom
After the trip up the tower, we visited the nearby visitor center and doubled or quadrupled our knowledge of the War of 1812 and Oliver Hazard Perry's role in it. Kevin then got a bug up his butt to rent one of the ubiquitous golf carts we had been dodging every time we crossed a street in the village. They rented by the hour and we were soon zooming along with Kevin at the wheel in his best Mario-Andretti-mode terrorizing pedestrians, cars and other golf carts. We were able to see both ends of the four-mile long island and explore numerous side streets in an hour. After a little more exploring downtown—including a stop for some provisions and beverages at the Island General Store, we headed back to Gaviidae.
Pelee Island?
The next morning we motored out of Put-in-Bay to the state-run marina on Middle Bass Island. It's a half mile from Put-in-Bay, so we arrived in short order and tied up at the end of the first dock. Kevin was keen on visiting Pelee Island, just a few miles to the northwest and across the border with Canada; he had brought his passport and wanted to be able to say he sailed to Canada. We had no expectations to go ashore and planned to anchor overnight off the south end of the island, then sail back to Vermilion. I started filling out the on-line ArriveCAN application for a remote entry permit and ran into sundry COVID and other complications that were going to require sailing to the north end of Pelee and going into quarantine at the marina there!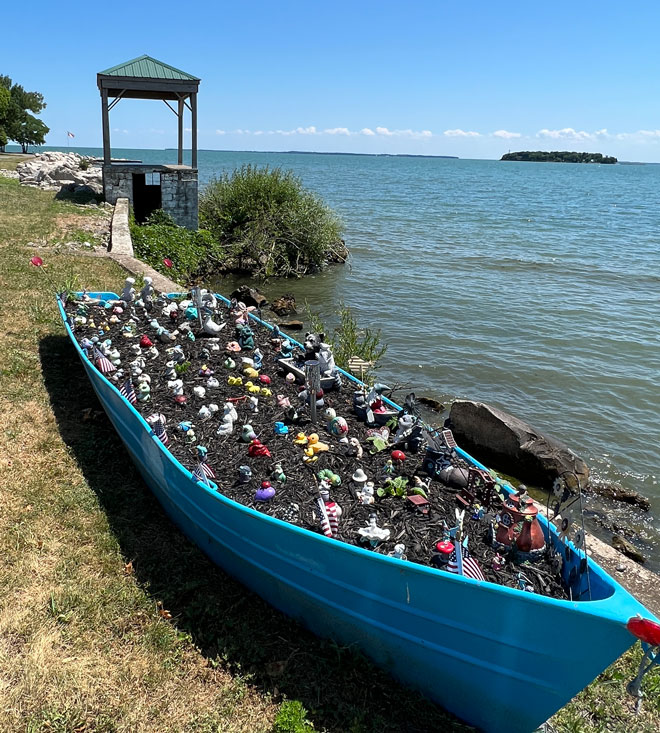 A couple phone calls to Canadian customs confirmed those requirements. Technically, if we didn't go ashore, checking in with Canadian customs was not required as I understood it. But—if the Canadian Coast Guard or some errant customs flack decided to check us it, it could get complicated. On top of that, we would also be obliged to check in with U.S. Customs on our return trip. It was not to be. After wasting a couple hours trying to sort this out, we gave up and decided to visit north Bass Island the next day instead. I prepped our folding bikes for a ride, we went ashore and mounted up.
Middle Bass Island
Middle Bass is slightly smaller than either of its Bass sisters. Julie and I explored the island by bike just a week earlier, so I already knew where to go. Not that there are a lot of options. Shaped somewhat like a round frypan and its handle, there is one primary paved road from the State Park where the marina is located at the southwest end of the island to the tip of the panhandle. A couple hours on bike can cover the entire island end to end.
Tune Time
After dinner aboard, Kevin got his guitar out and started strumming and encouraged me to gather up my harmonicas. Kevin is an accomplished musician and played bass guitar and sang with a number of rock 'n roll cover bands since his youth in Pennsylvania. About the time we met some 20 years ago he was teaching himself to play the guitar. I started playing harmonica when I was in high school and have some modest skills with that instrument. I'm always up for a little jamming whenever someone produces a guitar and Kevin always indulges me. So we got a little jamming in and apparently entertained other boaters on our dock because we got several compliments the next morning before we sailed for North Bass Island.
North Bass Island
There are Ohio state parks on both South Bass and Middle Bass Island, all but 100 acres of North Bass is preserved from development as a state park. A few homes are grandfathered in as private residences and a small unincorporated town known as Isle Saint George is at the north end of the island. It is the site of Ohio's last one-room schoolhouse. The island was covered with vineyards in the 1800s, but they're all gone now.
There is no regular ferry service to North Bass, but the state maintains a commercially viable dock in a shallow south end bay along with some mooring balls. Repeated attempts to anchor in the shallow bay were thwarted by either dense weed cover or a rock bottom, we tied to a mooring ball just as a thunderstorm came crashing down on us from the west. We rode out the storm and then enjoyed a peaceful night on the mooring ball in the anchorage.
Back to Vermilion
The next morning Kevin and I got an early start for Vermilion. We motorsailed back in time to meet Julie for dinner at the Quaker Steak & Lube restaurant adjacent to our berth on the city marina wall. The next morning I took Kevin back to the Cleveland airport for his return home. Despite the disappointments over the planned cruise to Pelee Island, Kevin said it had been a fun and relaxing week on Lake Erie. After all, he got in some great sailing and he got to jam with me on my harmonicas.
July 10 – 14, 2022 Vermilion and the Bass Islands 318 Total Nautical Miles 41°25.372'N 082°21.537'W