We left Sault Ste. Marie, MI on July 28 heading for Lime Island. And as we've been known to do more than once on this trip we opted to keep going and ended up starting our North Channel excursion at Harbor Island at the far western end of Lake Huron. We stayed there for just one night, long enough to scope out the territory for the upcoming Great Lakes Cruising Club Wilderness Rally. From there we bopped over to Drummond Island (a strenuous 2.3 nautical miles) to meet up with Mark and Jeanne, our friends from Minneapolis who drove all the way to Drummond Island just to bring us our mail. Such good friends! The real truth is that we are secretly trying to turn them into sailors!
With access to their vehicle we went in search of lunch and ended up at Esther's – reported as the best Mexican restaurant around. Since it's probably the only Mexican restaurant from Drummond to the Soo, it's a claim not often challenged. All I can say is that it needs tequila and they only serve pop.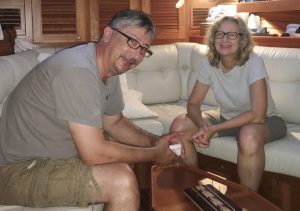 Mark is a serious fisherman, a stop at the hardware store was required to get Michigan fishing licenses for both he and Dan. With license in hand, Mark proceeded to toy with the fish hanging out around the Drummond Island Yacht Haven – the local marina and boat service shop. With his expert fishing skills he managed to snag a couple of smallmouth bass and Northern Pikes which he and Dan refer to as "snakes". Nothing to keep but it kept him entertained while we readied the boat for our guests. Translation: remove a whole pile of "stuff" and stow it in the back of their vehicle to make room for them and their "stuff."
With our friends set up in the forward cabin, we headed back to Harbor Island. Dan and Mark exhausted the fishing potential in the inner harbor – I believe the standing rule is if you don't get a fish in seven minutes, either change location or change your lure. Seriously. I've observed Mark's fishing technique for more years than I can count and I used to think that he liked playing with the lures more than the actual fishing. Meanwhile Jeanne and I got to relax and catch up over a glass of wine or two but who's counting.
The next day we cruised a couple miles to Burnt Island thinking we would overnight there but did not like the wind direction coming into the bay. You generally don't want the wind blowing you into shore in case your anchor drags. It sucks to wake up in the morning to find you are up against the shore! The wind was predicted to be light but we prefer to err on the side of caution. Instead we did some lazy sailing and dawdled our way back to Harbor Island. In four days, we had been in and out of Harbor Island three times.
Ceremonies
We bought Gaviidae in 2013 and we had done the official de-naming ceremony in Duluth before the new name was applied. We had been waiting for the perfect time for the second half of the ceremony which required a chilled bottle of bubbly. We just never seemed to have a chilled bottle on board when we out at anchor.
This time we were prepared with the bubbly-a special nautical themed bottle given to Dan by his co-workers at Haskells, cheese, sausage and crackers. With Dan, Mark, and Jeanne yelling at me that I was giving too much of the champagne to Gaviidae, we did the appropriate blessing to Poseidon (King of the Sea) and Aeolus (King of the Wind). We then proceeded to kill off the bottle and then some. Cheers to all the gods!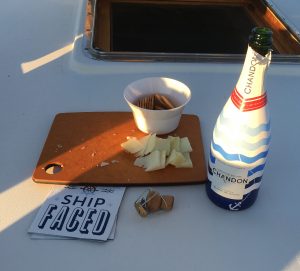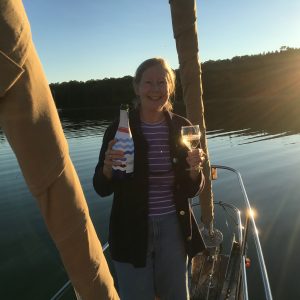 With official ceremonies complete, our friends returned to Minneapolis with full expectations (on both sides) of catching up with us on Lake Michigan next summer. Yes, they be sailors!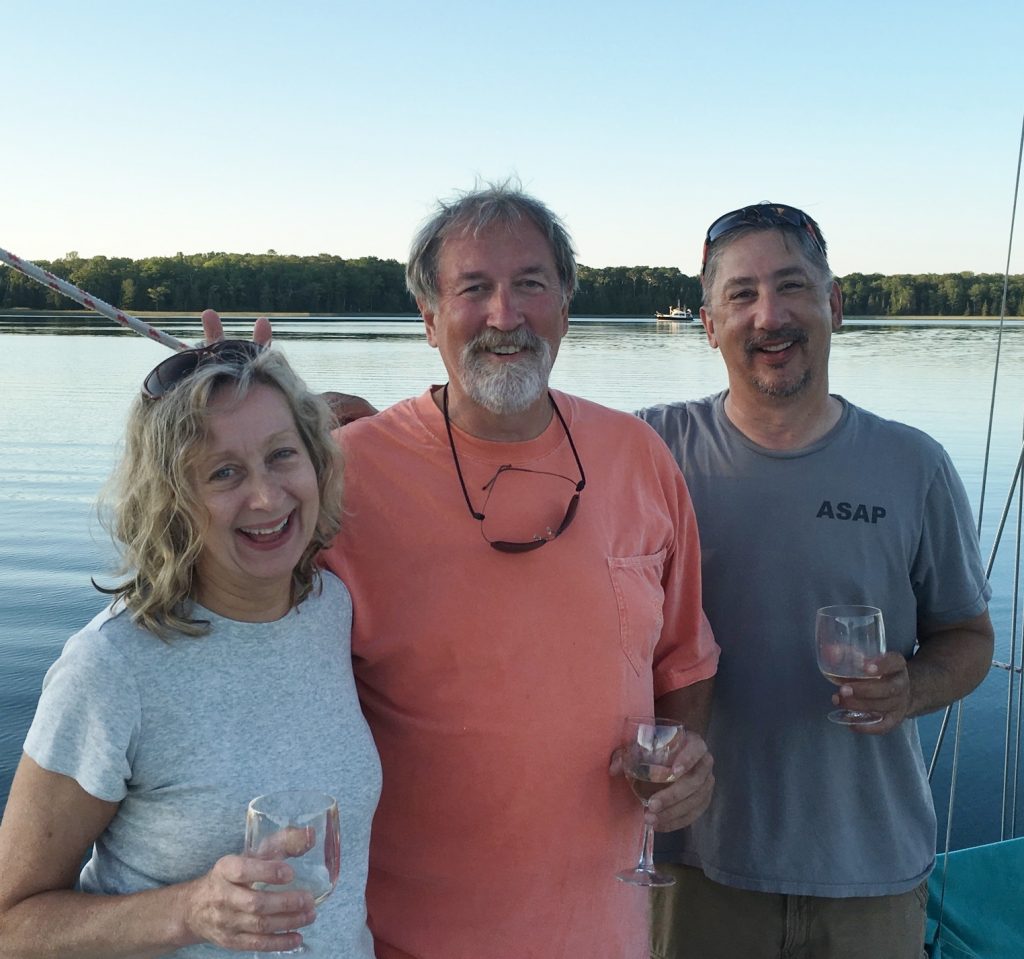 July 28 – August 1, 2016   46° 01.503'N  83° 44.901'W   734.4 Nautical Miles