We've been to the North Channel of Lake Huron many times – in fact, our first trip was in 2004 with the Trailer Sailors and we were on our Rhodes 22 Blue Loon. With the exception of 2018 when we explored Lake Superior, a portion of every summer once we started 'cruising' was spent exploring the pristine waters of this area.
But last year we changed our approach and opted to stay longer at an anchorage that we found to be lovely. We ended the 2020 season with a scant 730NM under the keel. Quite a bit less than our 1200 to 1700NM treks of years past. And we loved it!
With no specific destinations in mind other than "head north", we've taken the same approach this year. And like last year, we are venturing into anchorages and areas that we've never been to or felt needed a closer look. So, forget the usual North Channel hot spots like the Benjamins and Eagle Island – we're on a mission to explore the unknown! At least unknown to us!
Snug Harbour – July 9 45° 57.343'N 81° 38.604'W 293.06 Nautical Miles
Snug is one place we'd been to before, but it was back in 2004 and we hadn't been to this popular anchorage since. Off the Landsdowne Channel southwest of Killarney, Snug bites into a long, narrow peninsula of the South LaCloche Range. It is a bit of a wiggle getting in the bay but once inside, it's big and deep. And as for popular, well – we had the entire place to ourselves this time around. Perhaps others don't like the idea of anchoring in 30-40 feet of water? We found the one narrow shelf into the bay and dropped anchor in 20 feet of water. We proceeded to put another 120 feet of chain out in anticipation of some big overnight winds.

Hiking Time
The winds came and went and we stayed put. In the morning, we grabbed bug spray and water and headed to shore in our dinghy. We found the trail to cross to the other side of the peninsula and Frazer Bay–about a 1/3 mile hike that skirts the east end of Devils Bay Lake. The easy trail ends at a rocky beach next to Mayes Point. The LaCloche Range is said to be the oldest mountain range in North America and this beach is famous for rocks embedded with the fossilized remains of small sea creatures. Exploring the shoreline, we found a few rocks with fossils and left them where we found them.
When we returned to the boat, a small cruiser was entering the bay. They circled the bay trying to find a place to drop anchor. We hailed them and let them know we were anchored in 20 feet and leaving; they could take over our 20-foot shelf. They claimed ownership of the spot as we headed out!
Blueberry Island – July 10 45° 59.225'N 81° 34.857'W 302.76 Nautical Miles
Our next stop was Frazer Bay. It's a huge bay that we now wonder why we never explored before. There are actually numerous places to anchor in Frazer Bay – but when boats call into the Little Current Yacht Club Cruiser's Net – they only reference Frazer Bay. We suspect the vague calls are futile attempts to keep their "secret" anchorages to themselves!
Our target destination was Horseshoe Bay aka Half Moon Bay or Gord Blake Island. It's the same place but it has many names depending upon who you are talking to. Another method of keeping the location confusing and out of the mainstream.
We had a lovely sail down the full length of Frazer Bay. As we approached the island, we put the laundry away and headed towards the many-named bay. We discovered five boats anchored inside. It's not that big of a bay so we averted to the anchorage behind Blueberry Island south across Frazer. We had the entire anchorage to ourselves.

Half Moon Bay – July 11 45° 59.875'N 81° 35.119'W 303.46 Nautical Miles
From our vantage point in the west end of Blueberry Bay, we could see straight across to Half Moon Bay. In the morning a big trawler departed Half Moon as did another large sailboat. We quickly weighed anchor and scooted across. Total distance travelled – 0.7NM! Our shortest day on record!
We fell in love with Half Moon – even with other boats sharing the anchorage. It has the nice, cozy feel that is common to all of our favourite anchorages.
We also had a dilemma; we had just arrived and heavy weather was projected two days out – the day we would have been leaving for a provisioning and pump-out run to Little Current. Instead we departed early the next morning and sailed the 16NM to Little Current. We did our provisioning, laundry and pump-out – and then got the 5PM bridge opening and headed straight back to Half Moon/Horseshoe/Gord Blake.
Chocolate Please
The predicted big winds and storms were delayed for 24 hours so we hopped in the dinghy and went exploring the various nooks and crannies in the eastern end of Frazer Bay. There were a few cottages here and there, but it is mostly untouched. The one large home, we learned later, was owned by the Lindt family of the chocolate world. Apparently, it has security cameras all over the property. I think the next time we are in the area; I will make a sign that says "Send Chocolate," get in my kayak and paddle in front of the cameras!
The big winds predicted were expected to be from the south, the only exposed side of the anchorage. By the time we returned from exploring, every other boat had left the anchorage! Figuring the cliffs along the south La Cloche range would provide protection, we discussed changing our position relative to the shore of the horseshoe-shaped bay and opted to simply let out more chain.
Gaviidae, Gaviidae – Gaviidae, Gaviidae
While looking at the weather radar the next morning I noticed a boat on broadcasting on AIS from Georgian Bay. Being nosy, I clicked on the icon and was surprised to see that it was Gaviidae, our prior Gozzard. We hailed them on VHF radio and convinced them that sharing Half Moon Bay with us was better than heading into an overly crowded anchorage elsewhere. Promise of dinner on arrival also helped! Howard and Kerri-Anne on Gaviidae arrived in time for happy hour and dinner.

Okeechobee Lodge – July 16 46° 00.570'N 81° 40.128'W 339.14 Nautical Miles
A week or two earlier, I had seen mention of Okeechobee Lodge on the Cruiser's Net Facebook page. It sounded as though this attractive property was going to start accepting guests after a decades-long hiatus. Over the years we have cruised by Okeechobee Lodge at the mouth of Baie Fine, the fjord leading to Marianne Cove and The Pool. With its numerous cabins and docks, club house and swimming pool, and a larger lodge building with patios facing west, the Okeechobee had a reputation for hosting the rich and famous decades ago. While the docks at the lodge were usually mostly empty, we noted work being done around the property and the occasional presence of large cruisers at the docks.
I reached out to the owners via their web page with a request to stay at their docks, explaining that our dates were extremely flexible (as in, anytime). I also mentioned that we were the GLCC Harbor Report editors. Perhaps that last bit of information helped! They invited us to come the next weekend. As the scheduled visit approached, I got the lodge owner's permission for the other Gaviidae to accompany us. Both Gaviidaes departed Half Moon Bay and ventured to Okeechobee where we were greeted at the dock by the owner, Glenn Fuller. Glenn and his wife, Laurel, had just arrived by helicopter a few moments earlier. In fact, he had flown right over top of us as we approached the entrance to Baie Fine, but I was below decks and missed seeing the helicopter!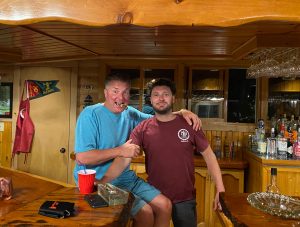 Okeechobee Lodge was purchased by Glenn and Laurel Fuller nine years ago from Mike and Orleen Wheatley, who had done extensive improvements to the cabins and other structures. The Fullers have continued the tradition of improvements throughout with help from their adult children. We witnessed the Fuller family team re-painting a small lighthouse while we were there. It was nice to see a family working together and having fun at the same time! With a park-like setting complete with well-tended gardens and seating areas – it is a lovely place to explore and soak up the history.
The Muskie Lounge
We had dinner on board with Howard and Kerri-Anne, then Glenn and his daughter, Sydney, came down the dock and invited us to join them in the Muskie Lounge. As the bar was not officially open, we brought our own beverages and joined the family for an uproarious evening of story telling and hilarity. I must remember that I'm not twenty anymore. Translation: Politely decline the next time I'm offered a cigar!
While in the lounge, Glenn showed us pictures of Okeechobee's past – it was amazing to see the furniture in use now was there in the 50's! For example, there is a grand piano on wheels that would be rolled down the pathway onto a boat. Guests would be entertained all the way down to The Pool at the end of Baie Fine and back! And the litany of famous guests – yes! Presidents, writers and rumours of Chicago mobsters! And now us!
If you visit, look for a wooden Loon in the Muskie Lounge. It may have the name Gaviidae on the bottom side!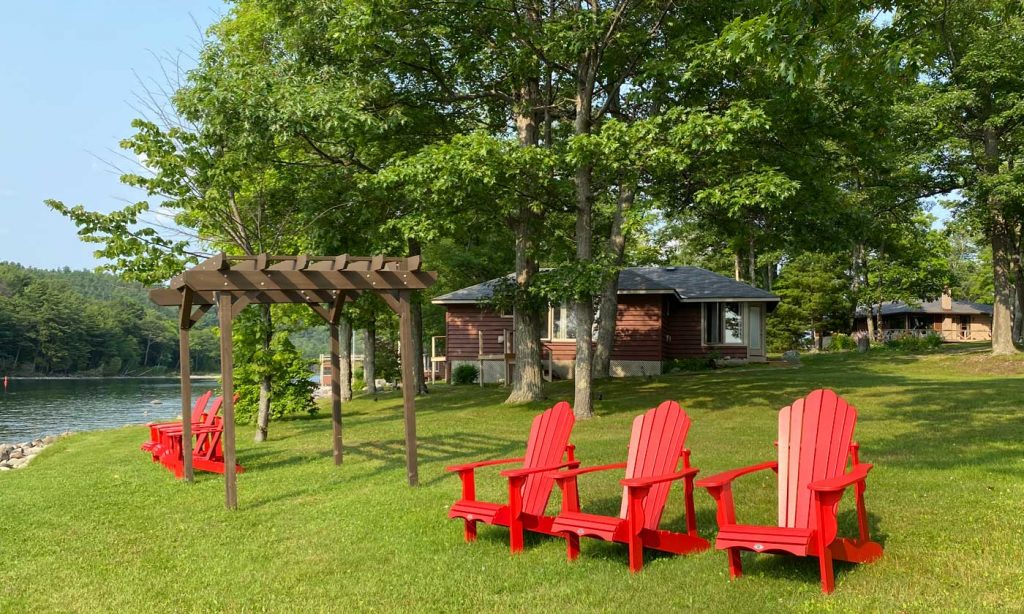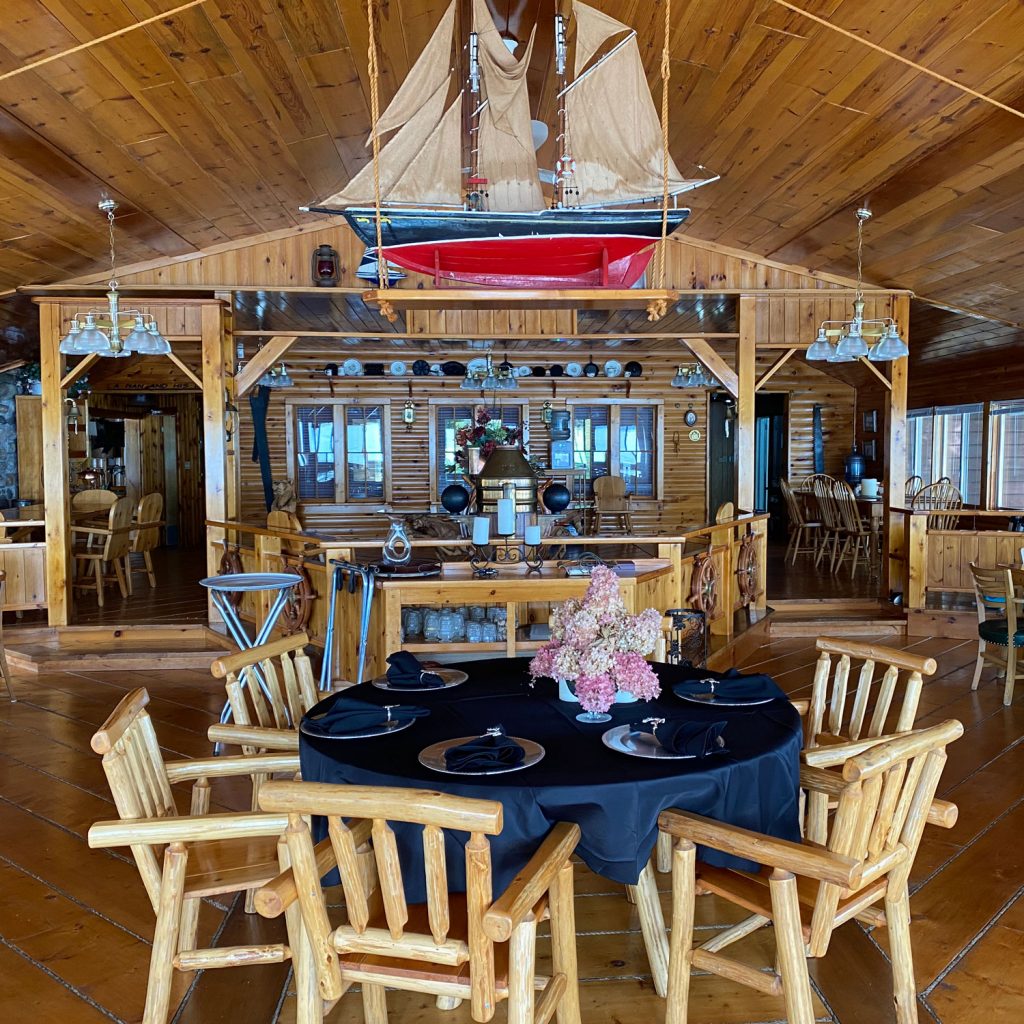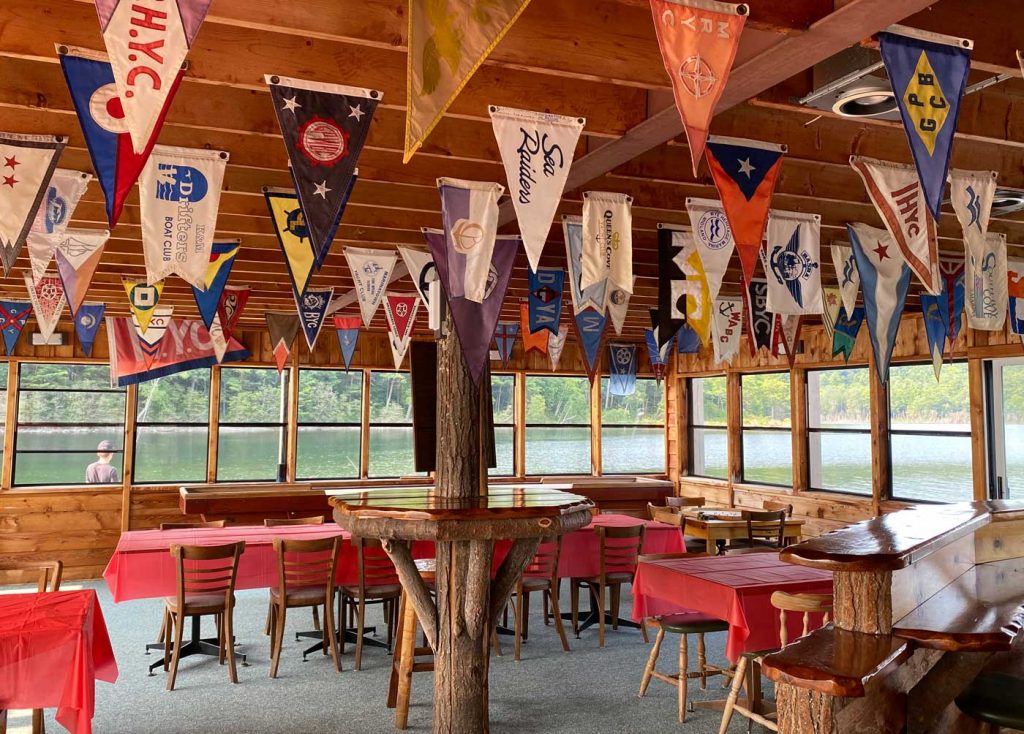 Clapperton Island – July 20 46° 00.162'N 82° 13.788'W 371.3 Nautical Miles
We'd visited Beatty Cove on the west side of Clapperton Island last year but had never been into the south side where Harbour Island helps define the southern edge of a large bay. It was once the location of another large resort like Okeechobee Lodge but, unfortunately, its fate was not the same. The buildings have succumbed to the harsh winters and the roofs have collapsed. The ruins are a sorry sight.
Our friends on Komeekha were anchored in the bay along with another boat, Vitae, that we had met just before we left Half Moon Bay. Happy Hours, shared dinners, and even an apple pancake breakfast ensued over the next couple of days.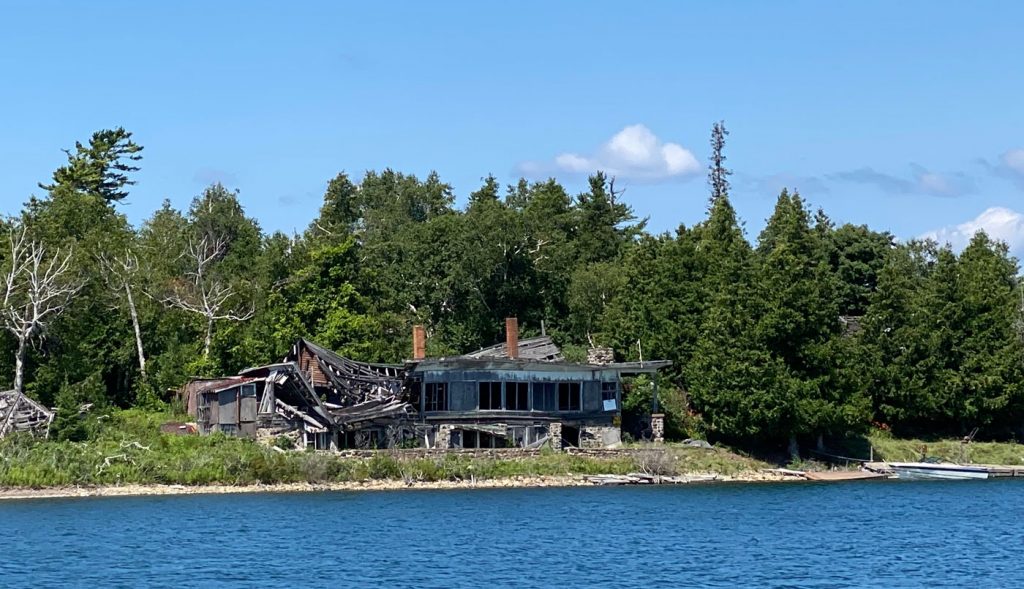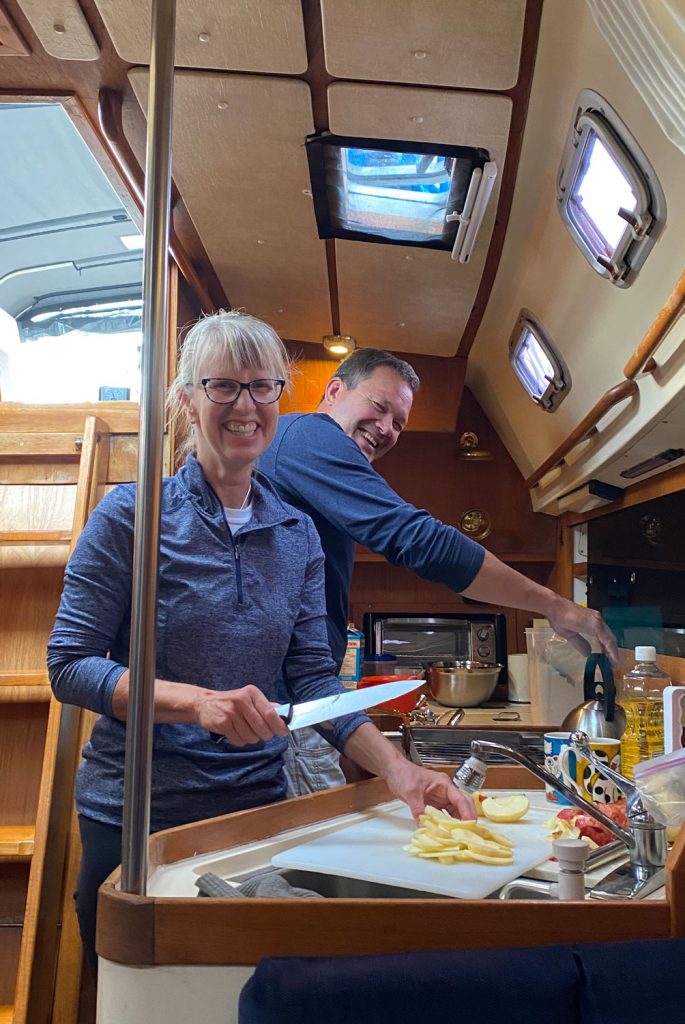 By this point, Dan had run out of rum – time to do another provisioning run. We parted ways with our friends and headed to Gore Bay.
Bay of Islands – Jumbo Bay – July 25 46° 03.434'N 81° 49.358'W 417.02 Nautical Miles
A few days later along with a couple of other overnight stops, we headed to the Bay of Islands — another area we had yet to explore. We had met up again with Komeekha at Amedroz Island the previous day. We gingerly wiggled our way between shoals and past cottages into Perch Cove, a small section of Jumbo Bay. The anchorage was empty with the exception of one trawler and our friends, Magic Carpet. Gerry and Claire had been in a nearby anchorage when we contacted them from our location on Amedroz Island. The following morning the trawler left, and our three sailboats had Jumbo Bay to ourselves. Kayaks and our SUP were tossed overboard for some shoreline exploration and the dinghies went in search of fish. A fat bass was caught and turned into a wonderful fish spread, courtesy of the Komeekha team.
Meeting in McGregor Bay, But Where? – July 28 46° 03.522'N 81° 43.406'W 445.55 Nautical Miles
After two nights in Perch, both Komeekha and Magic Carpet departed for Little Current. We opted to stay another day and relax. The only sign of civilization from our vantage point was a water tower and a cell tower across the bay on Birch Island, a couple miles east. It's nice to have fast internet while sitting in calm, blue waters surrounded by nature!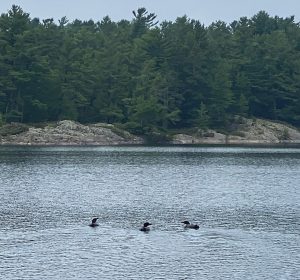 We had loose plans to meet Komeekha in McGregor after a pump(out)-and-run in Little Current. McGregor Bay is huge, with hundreds of islands and little anchorages to hide in. We had neglected to confirm a "specific" location. Oops. We cleared through the 2PM bridge opening in Little Current and headed east towards McGregor Bay. Of course, we had a set destination in mind and figured we would arrive around 6PM. Once past the bridge, we started exchanging VHF communications with Komeekha and they sent us the latitude/longitude coordinates for the anchorage they were heading into.
Surprise, surprise – it was on the western end of McGregor rather than the eastern side. Another new destination! It was also considerably closer and we arrived just in time for Happy Hour. The anchorage had no name so we dubbed it Komeekha Cove. We shared it with a couple of loons; there were also cottages within spitting distance and local boat traffic would zoom through on a regular basis.
McGregor – Part Two – July 29 46° 04.064'N 81° 35.384'W 455.69 Nautical Miles
Knowing that the eastern side was free of cottagers, both boats were underway by 8:30 the net morning. Our destination was East-West Sampson, although we hadn't made a final decision as to whether we would go East or West when we hit the end of the main channel in. Passing through a wide junction in the channel, we were greeted by seven loons! Clearly some were juveniles as they lacked boating etiquette knowledge or even basic Rules of the Road. Slowing to a stop, we let them paddle their way in front of us making all sorts of noise and commotion. You'd think we interrupted their nap time!
We navigated our way through the deep, narrow passageway. Seeing boats anchored in the East side, we made the decision to head West. We were surprised to find the anchorage empty! We dropped anchors, dinghies and kayaks. An hour later, the dinghies took off in search of fish and the kayaks opted for a leisurely paddle through the winding channels.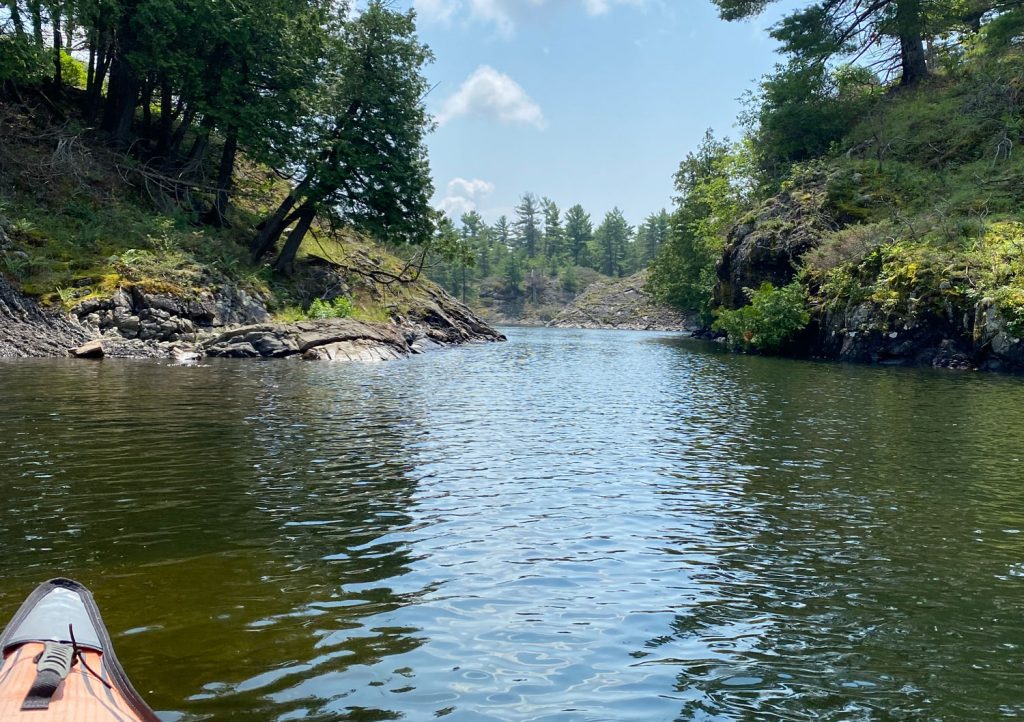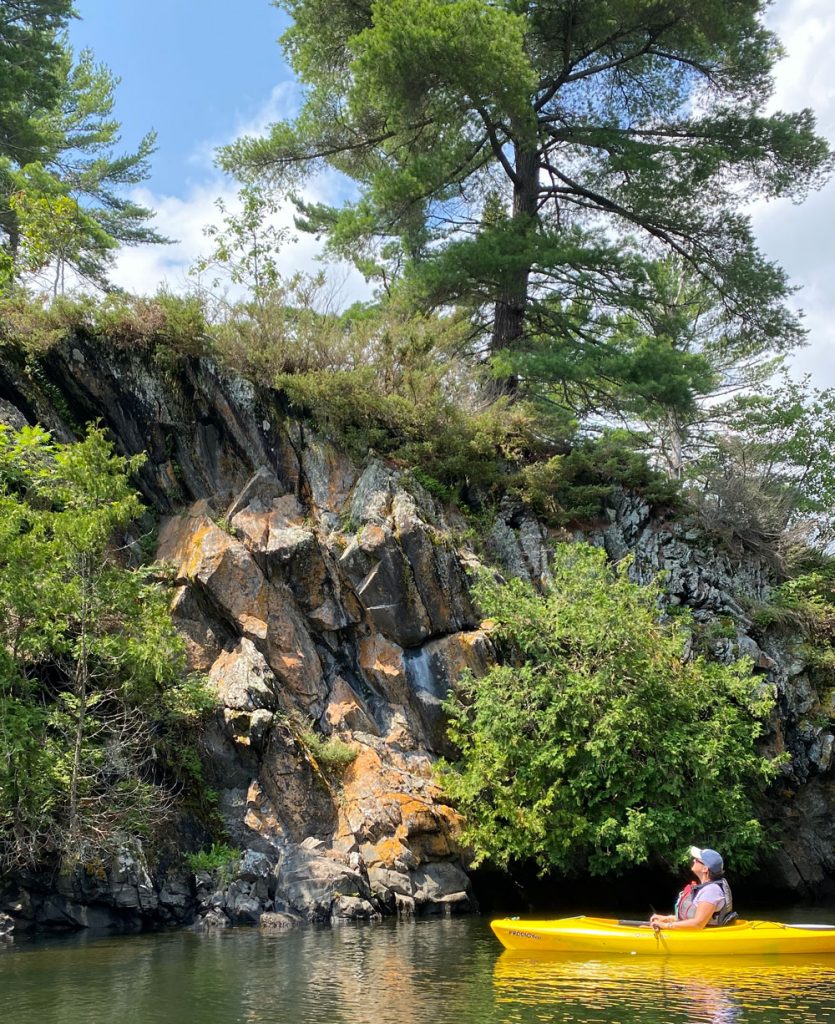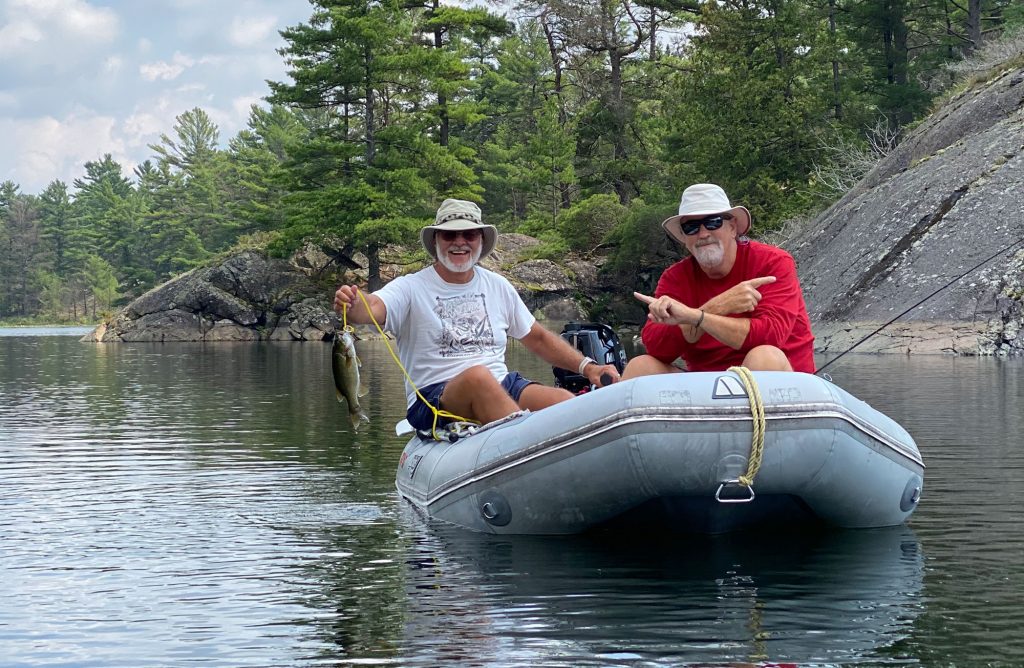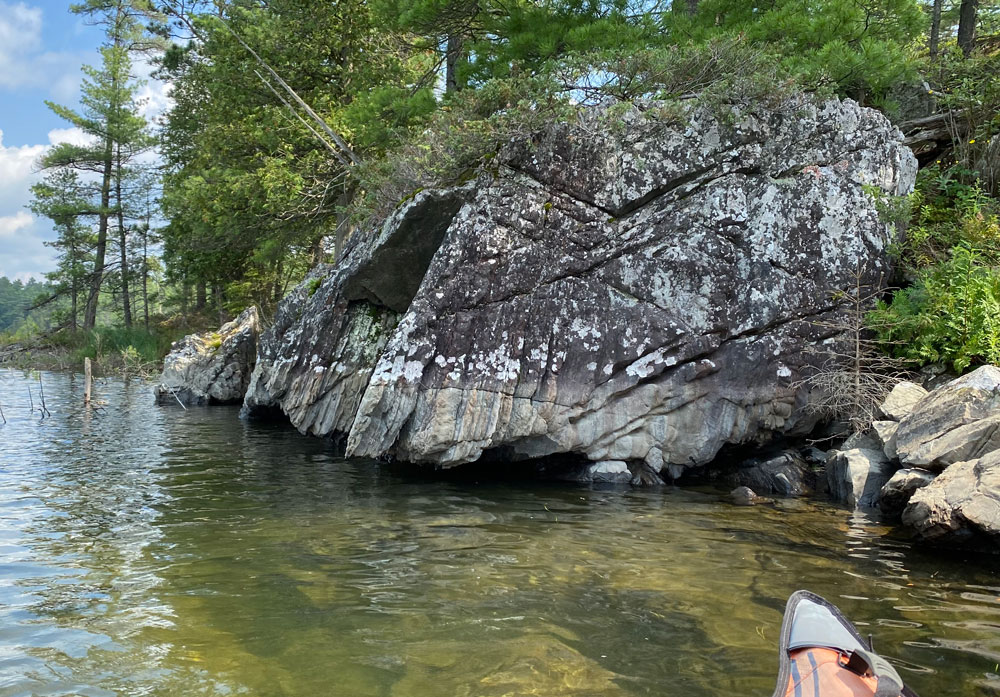 Our return trip benefitted from a nice west wind that made paddling extremely easy. As I hugged the shore, I came across a jagged rock face that was hollow underneath. With the wave action, it made these amazing sounds like very low wind chimes. We named it the Glub-glub Rock. I tried to record the sounds but the wind was dying, and with it, the lovely musical notes from the rock.
After a few days with Komeekha in this beautiful anchorage, they said their goodbyes and started their trek south — and home — for an early August wedding.
We stayed on in McGregor, sharing the bay with various loon families and a couple of Sand Hill Cranes. Within a day or two, other boats joined us and we made new friends with a happy hour aboard Gaviidae.
Exploration Interuptus
The day before we planned to leave McGregor, we had every intention of heading off for the day in the dinghy to explore Iroquois Bay to the north. But boats have a different way of controlling your life. While trying to calibrate an autohelm problem we discovered that a hydraulic piston in the complicated Octopus steering stystem was leaking. It's called The Octopus for a reason. It was time for us to weigh anchor and head back onto the grid to get information and assess our options. We were chagrined but thankful that we got to enjoy a full week enjoying all that Mother Nature had to offer in McGregor Bay.
August 5, 2021 McGregor Bay-West Sampson 46° 04.064'N 81° 35.384'W 455.69 Nautical Miles