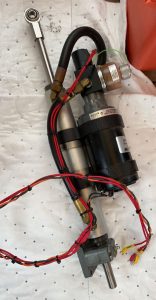 While the movie with Laurel and Hardy was named Another Fine Mess, the actual phrased used in the movie and in others was "Another nice mess". Regardless, some of our recent adventures certainly 'owned' either phrase!
Our last post left off with the discovery of our Autopilot (aka Ted) leaking fluid from the hydraulic piston that controls the steering. A few calls to Gozzard Yachts confirmed the demise of the piston. We, of course, had the option of hand steering for the remainder of the summer but with only two people on board, that becomes tedious quickly. Liz Gozzard called Octopus (the company that makes the controlling machinery) and was told they had none on hand and would have to manufacture one – ETA 6-8 weeks. Another nice mess!
The Bestest Birthday Present – August 6-10 45° 58.858'N 81° 55.424'W 485.02 Nautical Miles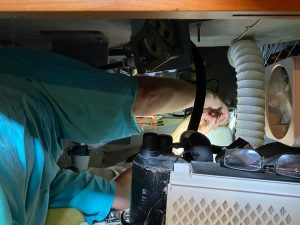 But Liz is resourceful and started making calls elsewhere. She found one in Barrie, Ontario! ETA 4-6 days! A quick $2500 later, and the part was ordered. This was Thursday, August 5th. On Friday, Mike called to let us know that the part had arrived. And even better, they knew someone who was driving to Little Current on Saturday! Sometimes a fine mess has a wonderful outcome – I always wanted a hydraulic piston as my birthday present!
With more than a few expletives aired and major bruises, Dan got the new hydraulic piston installed. I re-calibrated Ted and another fine mess was in the rear-view mirror.
Heading West – August 11 45° 52.889'N 82° 47.192'W 529.77 Nautical Miles
With Ted working better than he ever had, we had a fabulous sail to an anchorage on Manitoulin Island called Battery Bluff. Four hours with all three sails flying and hitting 7.5+ knots throughout! We anchored around the corner from the 'other' Gaviidae (our former boat) under the large bluff which protected us from the swirling and increasing winds.
Bashing to Vidal Bay – August 13 45° 55.601'N 83° 00.004'W 547.89 Nautical Miles
With upcoming dinner reservations at the Meldrum Bay Inn, both Gaviidaes headed west. While we had a lovely sail to Battery, we could not say the same for our trip to Vidal Bay. If we had barnacles on the boat, they were bashed to oblivion along with our brains! We also managed to take a direct hit on the side with an eight-foot wave that filled the cockpit! If we had a mess, it washed out the backend!
But while we were a tad uncomfortable, we heard a Pan-Pan (Possible Assistance Needed) announced by the Coast Guard of a sailing vessel whose mast had broken. We were too far away to assist but we were thankful for our over-rigged vessel.
Dinner at the Inn – August 14 45° 55.512'N 83° 06.863'W 555.71 Nautical Miles
We started a tradition back in 2015 – all trips to the North Channel required at least one dinner at the Meldrum Bay Inn. The village of Meldrum Bay is tiny – no grocery, no LCBO, no stores. But it is one of the first places to check-in to Canadian Customs when coming in from the U.S.
We had made our reservations two weeks earlier – even with Covid restrictions on travel from the U.S, the Inn is booked well in advance!
Tolsmaville – August 15 45° 57.596'N 83° 18.944'W 568.38 Nautical Miles
Our friends on Gaviidae 37 had never been to Cockburn Island; sounded like another adventure. When we were there in 2016, it had a population of one. Now it has a population of 3! My initial thought was the bachelor got married and had a kid. Nope. A young guy who loves the outdoors moved to the island – his way of avoiding Covid. And now his cousin has also decided to live year-round on the island.
When we arrived, Tolsmaville had people all over – they actually had to move some boats to get both our boats in a slip! Apparently one of the summer families had a wedding on the island. If we had arrived one day earlier, we could've crashed the party!
Walking around the town we noticed that the entire place seemed like it had a new coat of paint! I like to think they rolled out the red carpet for us. The cormorants had different ideas – upon return to the boat we found one of those nasty birds sitting on top of our mast threatening to leave a colossal mess below on our deck!
Turnbull Music Festival – August 17-19 46° 09.200'N 82° 45.721'W 598.72 Nautical Miles
After we departed Cockburn, we headed to Blind River for provisions and then onto Turnbull Island. We've been to Turnbull a number of times but it's a lovely place to drop an anchor for a couple of days. A sailboat that we had encountered last year, Heimat (means home in German) was there along with a number of other boats. Kevin, from Heimat, stopped by on one of his dog/shore runs and we thanked him again for his help last summer keeping a sailboat that had dragged anchor from damaging our boat.
We ended up spending happy hour the following evening aboard Heimat with some other boaters. Doug, from another boat, brought his guitar and Dan brought his harmonicas. Doug has a great voice and is a very good guitar player. Dan held his own and while he did not know most of the songs was still able to accompany on his blues harps. A wonderful evening and I'm sure the boats nearby appreciated the music as well!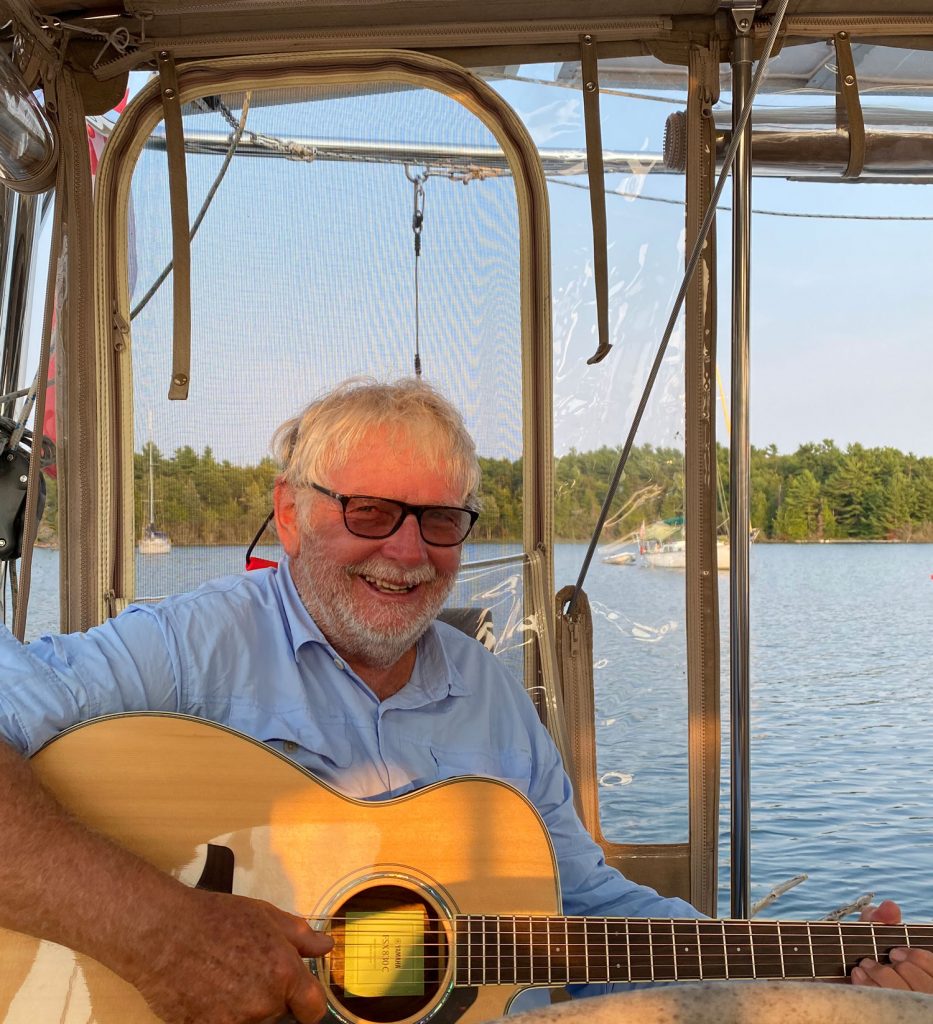 More New Experiences
From Turnbull we visited a few more places we'd never been to – Darch Island, Innes, McTavish, and Louisa Islands. All were lovely and we wondered why we had not been to them before! But our timeline to meet our Minnesota friends in Spanish was approaching so we headed west again.
Beardrop – August 28-29 46° 09.664'N 82° 37.707'W 671.04 Nautical Miles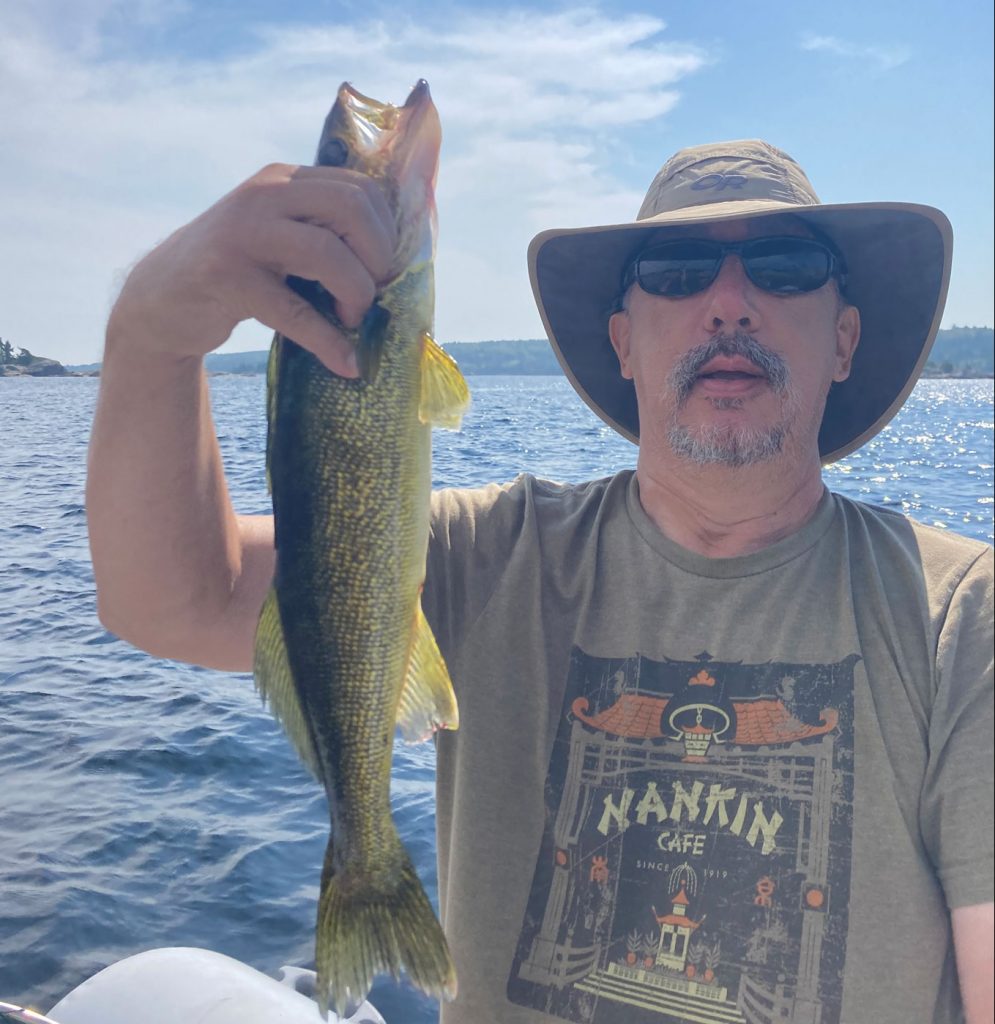 Mark and Jeanne arrived in Spanish with provisions for twenty and we headed west to Beardrop. They have visited us in the North Channel numerous times but had never been west of the Benjamin Islands.
An avid fisherman, Mark was assembling his gear before the anchor went down. Not waiting for even a beer, he took off in the dinghy. He normally is a catch-and-release fisherman but we had told him if he caught a nice fish, we'd have fish tacos. A short time later he returned with a nice walleye in tow.
With two juvenile eagles soaring overhead, Mark filleted the fish and left the mess for the birds to clean up. Which they did with gusto – not a trace was left!
With equal gusto, we enjoyed a lovely fish taco dinner along with some Spanish rice and wine.
The Beardrop Storm Tradition
Our stay in Beardrop last year included very strong winds and a storm or two. The winds resulted in the sailboat mentioned above dragging down on us and Kevin from Heimat racing over in his dinghy to help fend off the boat as got hung-up under our bowsprit.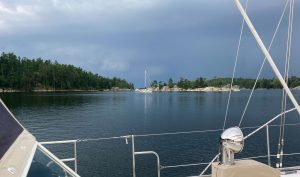 Not to be outdone, 2021 delivered an equal blast on Sunday afternoon. We had been expecting it as we watched the weather radar display ominous red and yellow blasts heading our way. The storms ETA was 5:00pm so by 4:00pm we were in process of putting extra tie-downs on the kayaks and getting the dinghy secured.
The sky suddenly became much darker and while Dan and I wrestled getting a screen in the cockpit replaced with a glass panel, the winds and rains hit with a vengeance. The boat swung around wildly heeling enough that the unlocked cabinets and drawers in the cabin flew open dumping contents onto the floor. Another fine mess!
As for Mark and Jeanne – they were below catching things as they went sliding by and enjoying the thrill of being in a squall on a boat! Seriously!
Trophy Bass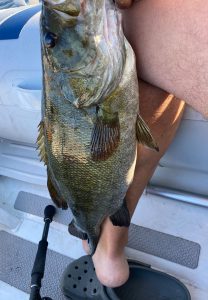 Mark continued with his daily fishing routine catching more fish than all prior North Channel trips combined! He returned to the boat one morning, more than a bit happy. He had caught a small mouth bass that was 22-23" long! Since he didn't have a tape measure so he used his leg – it went from his ankle to his knee! Once the appropriate picture was taken, the fish was returned to the water. Estimated weight: 6 lbs.!
Cleary Cove – August 30 46° 08.094'N 82° 37.455'W 674.0 Nautical Miles
Our next destination was Cleary Cove. Considered a shallow-draft anchorage, I was confident that with the higher water levels we could get in. The Great Lakes Cruising Club Harbor Report advised that the west entrance was narrow, but deeper. The eastern entrance, while it looked more inviting, was actually shallower by one foot.
As I headed towards the deeper, western entrance Dan stood watch at the bow to advise of shoals and rocks. Dan has better vision into the water and since I do the chart work – I figure it should be me who is at the helm if I've screwed something up with my charting.
With our headsets on, I turned the boat to the narrow approach. At that point Dan asked whether I was serious about going through there – it looked just barely wide enough for our boat! I said yes but slowed to an absolute crawl. As we inched forward, there was a fairly strong current pushing us into the cove. At one point I think Mark could've reached out and touched the rock wall we were going by!
I was relaying depths to Dan as we proceeded – by the time we cleared the entrance, I thought we were home free. Wrong! Within a second of turning towards the main anchorage area, Gaviidae came to a slow but deliberate stop. Damn!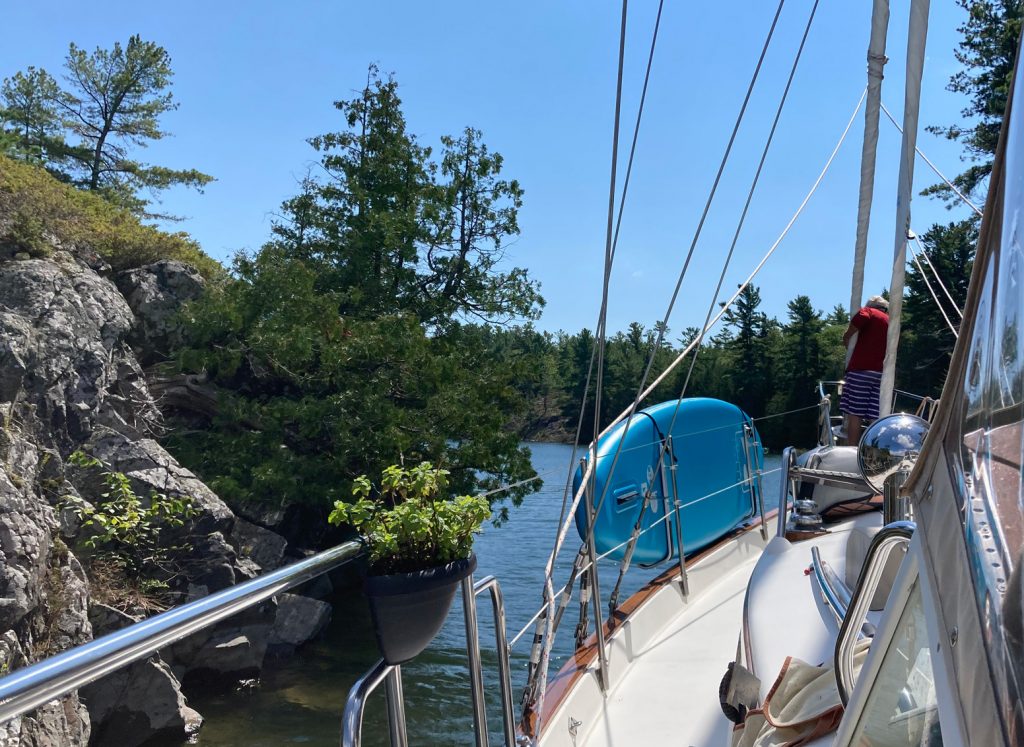 Running Aground – Nope
We have always gone with the philosophy that you've never really run aground if you can get off without calling for assistance. Don't remember which of our sailing friends told us that but it's what we were told and we have embraced it many times.
There was never a question that we wouldn't get off the sandbar, it was more a matter of how creative we would have to be to achieve freedom. We started simple. Reverse. Didn't work. Then we had everyone get on one side of the boat and hang over the side emulating their best rail meat poses. Didn't work. Then we swung the boom over the side as well. Didn't work.
About this time, Jeanne looked at me and stated 'another fine mess you've gotten us into!' with a big smile on her face.
We then hooked the dinghy to a spare halyard and to the end of the boom. With Mark in the dinghy lifting his weight and the dinghy's weight with a block and tackle arrangement, the boat tilted enough and we motored forward. Success! And with that, Mark went fishing.
Depth Readings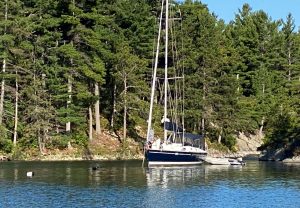 The next afternoon, I took 30-40 depth readings from my kayak using a handheld depth meter and marking the GPS position of each. Before I had a chance to confirm a safe route out of the cove, another sailboat came in and promptly ran aground where we did. They were able to get free but decided they didn't want to stay and turned around to head out. Unfortunately, they didn't follow the same path and ran aground in a shallower area.
S/V Stuck-in-the-Mud
We did our best to assist using all of the methods we had tried plus more. But they had a bulb shaped keel and the boat would've required a 45-degree heel to get the keel off the bottom. Now we had a boat blocking our exit! While they reached out to a tugboat operator to pull them off the sandbar, we proceeded to have a fabulous dinner of lamb chops and a side of Toasted Orzo with Garlic and Spinach. It was so good that Dan has provided the recipe.
The Green Tug
The next morning, we got word from S/V Stuck-in-the-Mud (sorry, we don't remember their boat name!) that their buddy with the local tug would be arriving at 2:00pm. By this point I had charted all of my waypoints and had a nice route to follow once the entrance/exit was no longer blocked by the other boat. We spent the afternoon relaxing and watching a bear go along a distant shore flipping rocks looking for lunch.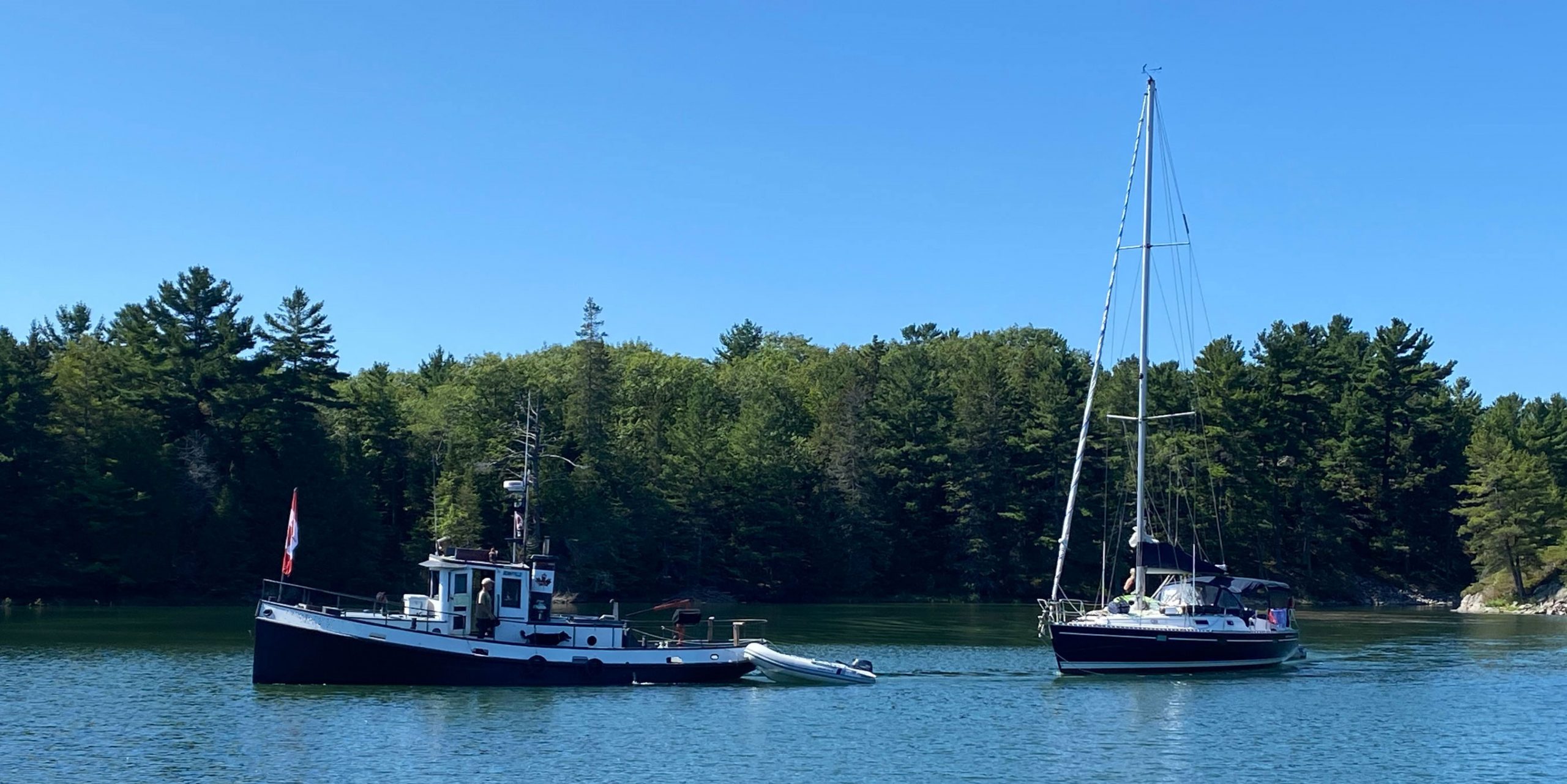 The Green Tug arrived and assisted removing the other boats anchor and then pulled them off the sandbar with a few serious tugs. While we envisioned them going out under their own power, that did not happen. The tug then proceeded to pull them all the way through the narrow channel and out into the open water.
Great for them, not great for us
Figuring that we would follow their path, we had our anchor up and ready to go. We moved forward with great optimism until we plowed into a shallow area and came to a quick stop. I reversed, got us off and circled back following the route that I had charted the day before. Same result. What I had measured as 7 feet was now reading at 5 feet. Between the other sailboat and the tug stirring up the bottom, my waypoints were useless.
We hailed the Green Tug and eventually he returned in his dinghy. We asked if he could pull us through. His response was that it would be $250 an hour with a two-hour minimum. And it had to be cash! Who runs around these days with $500 in cash? We operate with credit cards, but that was not an option. We scrambled around the boat and between the four of us came up with $300 Canadian and another $150 in U.S.
Since he had returned to his tugboat to wait for our call and our dinghy was already in the water, Mark and Jeanne hopped aboard with the depth sounder and took some quick readings. They found a path four feet over that looked like it was over six-feet through the channel.
Once again, we reversed course and backed out of the sand pile that held us in place. I circled around and with Dan on the bow relaying the path from the dinghy, we moved forward. We had one touch but were able to muscle through with a little extra throttle and made it into the channel and deep water.
And as we went by the Green Tug, we all had huge smiles as we had just saved ourselves $500 and gotten ourselves out of the fine mess without assistance!
Caveat: there is more to this story but Dan has insisted that I keep things civil – if you want the rest of the story, you'll have to chat with us directly!