When I was traveling a lot for the magazine I edited, I went to Dallas, Texas several times a year. Trips there were often tied in with the Western apparel market at the Dallas Apparel Mart. On one trip in March I flew to Dallas from Minneapolis during the early stages of a cold. Now, I don't do well with colds and the flu and I normally cower in bed and sweat it out for a couple of days. In this case, bedrest was not an option as far as my publisher was concerned. By the time I boarded my flight, my nose was running and my head was beginning to get stuffed.
To mitigate the symptoms, I took some over-the-counter cold remedy so as not to seem to be a walking contagion to fellow travelers. Usually travel to DFW from MSP is nonstop. For some forgotten reason, I found myself on a flight that included a stop in Kansas City. Big mistake. The multiple take-offs and landings played havoc with my sinuses and clogged my ears. By the time I deboarded, I was experiencing the first throes of a full-blown sinus headache. It spiraled into a debilitating misery to the point that I was unable to get out of bed and attend market for two days! Despite the virus-induced suffering, it turned into an unexpected godsend: sautéed broccoli.
Local Program
While I was buried under a pile of blankets and quilts in bed, I had the television on when I could tolerate the sound. I happened to catch a local program that featured a cooking demonstration by the head chef from the Rosewood Mansion On Turtle Creek. Rosewood is one of Dallas' premier hotels and its restaurant is renowned. The chef, whose name I never caught, shared a recipe for a broccoli dish that looked and sounded really good. I recognized its potential even through the fog of cold relief medicine staving off overwhelming viral assault. I scribbled the chef's instructions down on a motel notepad. It has been one of my very favorite vegetable dishes for some 30 years.
I am a card-carrying omnivore. My living will includes instructions not to resuscitate if an animal protein and a vegetable are not available for me to eat. So, I love most fresh vegetables in all states of preparation from raw to cooked. Exceptions include many of the vegetables from the cruciferous family. Yeah, I'm talking about you, Cauliflower. And you, Brussels sprouts. And you, Broccoli. To this day I detest most steamed or boiled stand-alone vegetables. They are usually overcooked, leached of all nutrition and lifeless on a plate. Overcooked greens conjure a special place in Hell for their bilious vegetal smell, total lack of natural flavor and perhaps most of all, their mushy texture. Ugh. Despite being bedridden and hunkered down in my misery, that chef opened my eyes to a whole new approach to vegetable cookery. It was life changing.
Briefly Steamed
What that chef did was demonstrate how to prepare the broccoli by slightly steaming it, and then finish it off with a little hot oil or fat. In preparation, he cut the broccoli into bite sized sections—stalks and all—and briefly steamed it in a covered sauté pan. Just long enough to start turning the flower heads and stalks bright green. He then added olive oil to the already hot pan, tossed in a pinch of dried hot pepper flakes and sautéed everything together until flower heads and cut surfaces began to caramelize. At that point he sprinkled the still-cooking broccoli with salt and pepper. Next he cleared space for a couple pats of butter and added some slivers of garlic in the melting butter. He sautéed the garlic until it got fragrant, then stirred and tossed the garlic together with the broccoli. In just a few minutes, before the garlic started to brown, he took the pan off the heat. For the coup de grace, he grated parmesan cheese over the still-hot broccoli so it would melt. It took all of 15 minutes to cut the broccoli and garlic, cook it, cheese it and serve it.
That chef inspired me to try the recipe soon after I got home and recuperated from the cold. First time out it was far and away the best cooked broccoli I had ever eaten. In short order I began applying the briefly steam–or parboil–principle to all kinds of veggies before tossing them on a grill or in a sauté pan or on a cookie sheet in the oven. I don't always take the time to precook green beans or Brussels sprouts or whatever, but doing so does help keep them from shriveling into tough, gnarly twigs or unrecognizable lumps of carbon.
By the way, despite its reputation for fine food, I could never get my cheapskate publisher to take us to the Rosewood Mansion On Turtle Creek for a meal. Having dinner there is still on my bucket list of things to do. I do invoke its name every time I sauté broccoli.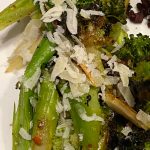 Print
Sauteed Broccoli
Broccoli transformed! You'll never want to eat steamed broccoli again. Recipe based on recipe from Rosewood Mansion On Turtle Creek in Dallas, Texas.
Ingredients
3

tbs

water

3

stalks

Fresh broccoli

stalks and flowers cut and sliced into bite sized pieces

3

tbs

olive oil

1

tsp

Hot pepper flakes

more or less to taste

2

tbs

butter

unsalted

3

cloves

garlic

sliced into spears

salt and pepper

to taste

1/3

cup

Parmesan reggiano cheese

grated
Instructions
Place cut and sliced broccoli in large saute pan with water. Cover and steam several minutes until broccoli starts to become bright green. Pour out any excess water and set lid aside.

Add olive oil and pepper flakes to hot pan, toss broccoli pieces to coat. Saute broccoli until it flowers and cut surfaces begin to caramelize.

Move broccoli to one side of pan; melt butter in open area, then add garlic slivers. Saute until garlic becomes fragrant. Salt and pepper to taste and stir to mix garlic, pepper flakes and broccoli. Remove from heat when garlic begins to brown but keep warm until ready to serve.

Top broccoli with grated Parmesan cheese to melt. Can add cheese in pan, but recommend removing broccoli to serving dish, then add cheese for easier clean up.