I stepped outside with our two canine wards on their leashes. The smell of wood smoke wafted through the surrounding woods. While the convenience of flipping a switch on a gas fireplace has its merits, nothing beats the smell of a wood fire when you're tucked away deep in the woods. In an instant, I'm back in my parents' home and filled with reflections of the wonderful times experienced in their home.
In truth, my fire building skills are lacking but I found if I throw enough kindling in, the logs will eventually catch. Fortunately, the homeowners of our current housesit left Dan and me enough wood and kindling for several winter seasons, let alone the two weeks we're committed to stay. This winter seems to be spanning more months than it should, a warm wood fire is quite welcome.
Our current place of residence is in a beautiful home in Dorset ON, four hours north of Toronto in the trendy Muskoka/Bay of Lakes area. It's very much like northern Minnesota but more rugged with spectacular outcrops of granite and volcanic rock that date back a billion years. Said to be some of the oldest rock on the planet! The house, surrounded by tall pines and white birch, sits high above Lake Kawagama and is so remote that mail delivery is not an option.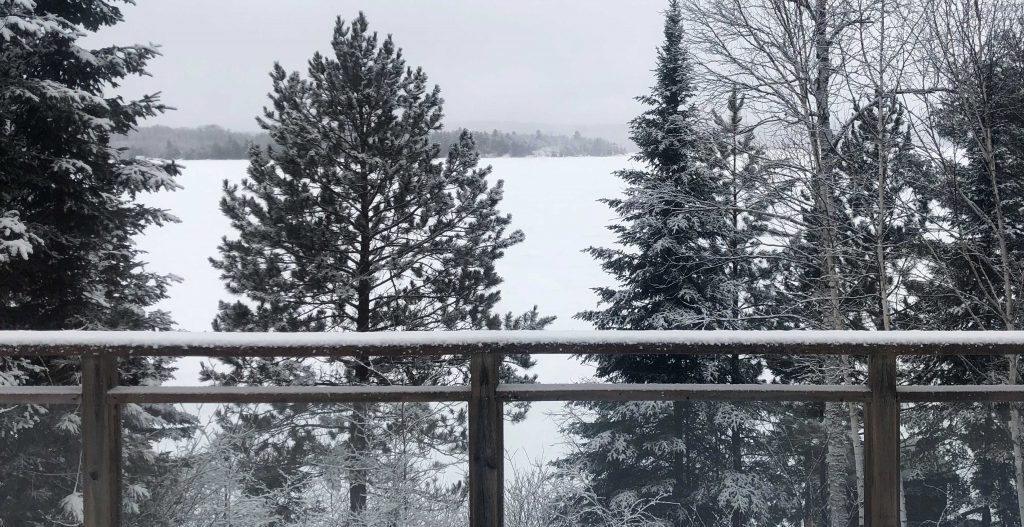 We're an 8-mile drive into the town of Dorset which boasts Robinson's General Store-a grocery/hardware/gift/clothing all packed into one store. Huntsville is the closest town for real shopping or groceries; a 35-mile drive. A very pretty drive, it's not one you'd do in bad winter weather.
Which brings me to the present—mid April. Yesterday we got four inches of light fluffy snow – this while Minneapolis was getting socked with a foot! Dan and I were feeling smug about our relatively easy weather. Today our picturesque spring snowfall morphed into freezing rain or what is called a "wintery mix" with temperatures hovering around freezing during the day and dipping 10 to 20 degrees overnight. If the upcoming forecasts are correct, we won't be going anywhere for at least 3-4 more days as this system seems to be circling. This is the winter that will not end.
Two Seasons
I tend to view our life grouped into two seasons: Summer, which is for sailing and Winter, which is housesitting. This past winter we started the "housesitting season" with a house sit in Maryland, conveniently close to Annapolis so we could attend the big sailboat show in October. We made it out of the boat show without spending an arm and a leg – the big purchase was two new Gaviidae baseball caps. We did, however, do a lot of research into items that we would be purchasing so the trip was definitely worth it.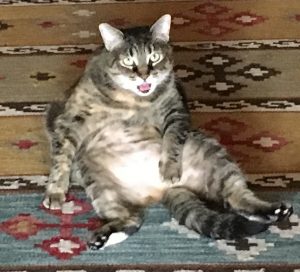 Our month-long housesit was near Ellicott City MD in a big house surrounded by woods and occupied by two cats. The homeowner, Jennifer, gave me lessons in administering insulin shots using a stuffed animal. From that point on, it was two shots a day for Maggie, her diabetic cat. The other cat was Skittles, who would careen and catapult around the house at least once a day at high-speed bouncing off walls and furniture in the process. While I did the majority of cat duty, Dan took care of the fish pond and relocating a stack of cut wood to the front porch of the house. The latter was not something we needed to do but Jennifer is a nice lady and I'm sure she appreciated the help.
Play Time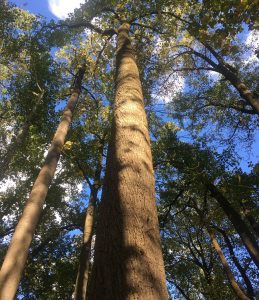 While there we toured the historic town of Old Ellicott City, went on some bike rides and did some hiking. During one hike, we opted to take a short-cut back to the house that resulted in a two-hour scramble up a large, steep hill. I did most of it almost on my belly for fear of sliding back down the hill in the extremely loose footing of shale and wet leaves. We finally arrived back at the house well after dark covered in dirt and in need of water and food. Yup, we took off without water bottles as we thought we were just doing a "short" hike.
Back to Canada
From Maryland we headed to Toronto to housesit for my sister Lynne while she and her husband Jim went to Portugal and Spain for a month. Our time in Toronto was spent taking Lucy the Wonder Dog for walks, helping my nieces, and working on projects.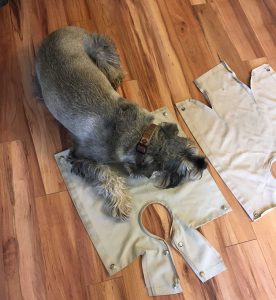 The industrial Sailrite sewing machine was put to use as I attempted to do my first "real" boat canvas projects – a new cover for the helm station, some sheet bags, and dorade covers. The dorade covers turned out to be a complete flop as they did not come close to fitting. Not quite sure what went wrong as I used the prior covers as templates.
I also continued with crocheting, which I had started in Maryland and discovered that it was something I could do while watching tv or riding in the car. I now have a small obsession with making little hanging baskets that I've since been giving away to everyone who wants one. Maybe they're just being polite.
At the end of our stay in Toronto we received an offer on our Gozzard 37 sailboat (Gaviidae Jr) and ended up heading to Goderich to spend some labor-intensive days prepping brightwork as requested by the new owner. Our labor is free, Mike Gozzard is not.
Housesit Cancellation
Just before we were to leave Goderich we learned that our next housesit was cancelled due to medical issues. Not to worry – demand for housesitters over the holiday season outweighs supply by a long shot. Within 24 hours I had another housesit lined up in the Uptown area of Minneapolis. A cancellation is just one of those issues housesitters have to deal with. Hopefully it happens (and it will) with enough notice to find another sit.
January took us to Northfield MN where the town motto is "Cows, Colleges, and Contentment". Funny how the cows took top billing – didn't see a single cow while we were there. We did smell chocolate – from the Malt O Meal plant that was on the edge town. Who eats that stuff?
Welcome to our Bed and Breakfast
Our sit was in the charming Magic Door Bed and Breakfast that was closed for the month. The owner, Pamela, put us in the Summer Suite which was huge!
This slideshow requires JavaScript.
We had a private sitting area and a jacuzzi tub! This was the kind of housesitting that fulfilled the romantic vision of a nomad's life. And to share our little fantasy life, we invited various friends to visit as we "pretended" to run a B&B. It was actually a B&D&B as dinner was always included. This, of course, was with the homeowner's permission.
There were four crazy cats under our care including one that did not like anyone touching her other than the owner. I took this as a challenge and within two weeks, Tara the Terrorist was climbing onto my lap. Of course, then I couldn't move or her claws would come out in a hurry!
Then it was back to the Twin Cities for a two-month sit in Golden Valley with an adorable calico kitty named Karo. Who also happened to be diabetic. No worries – I'm now the master of giving shots. The home was wonderful with a big kitchen and dining room. Both of which were given heavy use as we entertained frequently seeing as many friends as we could squeeze in. Needless to say, our food budget was blown out the window!
This slideshow requires JavaScript.
Speaking of windows, the house looked over Theodore Wirth Park and we watched the cross-country skiers go by in a continual parade. Our skis were back in Goderich due to space issues in the vehicle packed with a few too many boat projects – and the fact that my XC ski boots are missing. We did bring our snowshoes and enjoyed a romp in the Park one afternoon. Next year we'll ski; – yes, they have asked us back.
Boat Projects
The housesitting season does not mean the end of boat projects. Not in the least. The big Sailrite and its foldable table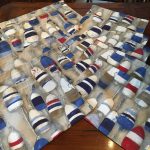 travelled with us along with the teak wheel from the cockpit. I made 21 little buoy-themed curtains for the boat as the original polyester curtains were nasty! Leisure suit kind of nasty.
The big machine also allowed me to make two-sided placemats, a padded table runner and coordinating napkins. All of this was practice for the BIG project in the spring – building a complete enclosure for the cockpit.
The teak wheel also got stripped and we practiced our handiwork using AwlWood to refinish some of the small pieces of wood boat trim. Our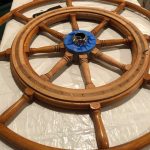 efforts convinced us that we should have Mike Gozzard spray the teak wheel – too many unique angles for our novice efforts using AwlWood. Our brightwork experiences will be covered in another blog.
Ahead, behind, and in the middle of the Storm
We were scheduled to leave Minnesota on Tuesday, April 3rd after the owners returned from Florida. We planned three days to drive the 1000+ miles to Dorset Ontario, which included a one-day stop in Goderich to take care of some boat issues. Staying in close contact with owners on both sides and watching a big weather front march it's way across the Plains, the Golden Valley owners opted to push through from Florida before they got stuck by the storm and gave us leave to depart on Monday.
For the next few days we were either an hour or two ahead of the storm, behind it, or smack in the middle. The middle caught us as we were going around Detroit in a thunderstorm with very heavy rain. And being prudent sailors, we continued to watch the weather closely. With predicted winds of 30-40mph for the next day, we pushed on and made it to Goderich around 11PM on Wednesday. Kudos to Dan for doing the lion's share of the driving – my night vision is not great and in heavy rain, the reflections turn everything into one big, glaring blur!
Dogs
And this brings me back to Dorset and the end of our housesitting season. We've enjoyed the area immensely and Jack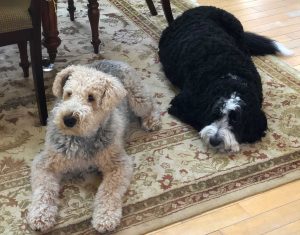 the Airedale is as goofy as every one of our Airedales of the past. The other pooch is Harley, a Bernedoodle. Big. And cuddly. A 100lb lapdog who wants– no demands, attention. All. The. Time. Having a housesit with dogs after a season of cats has been wonderful. We both realized how much we enjoy having such unbridled enthusiasm around. No, that does not mean we are getting a dog. I think our lives are almost manageable at this point – a dog would complicate it just a tad too much.
Reflections and Financials
Housesitting had not been part of our retirement plan, only because I didn't know it was an option. As I mentioned to our current homeowner, I've never had a vacation where I was ready to get "home". They were always too short and there was always more to explore. Fortunately, Dan was also born a Nomad and this wandering life seems to suit us both.
Our housesitting season this year started on October 10 and goes through April 23 – 185 Days
We cared for 3 dogs, 9 cats, a 70-gallon freshwater tropical fish tank, a goldfish pond, and outdoor bird feeders
We've spent just under $4000 during this time for all housesit expenses including fees for the services we use, hotels, gas, and eating out between housesits. It does not cover groceries as we would be buying groceries regardless of where we were staying. Basically $570 per month, which is $70 a month more than last year—due mostly to two extended stays in Goderich between sits working on the boat.