As Julie mentioned in her recent post, we left Gaviidae in Port Huron, MI to wait out the winter in October. As we headed west to Washington in our Class B RV for a series of housesits, we decided to angle southwest out of Missoula, MT and follow the Lewis & Clark trail (now U.S. 12) over Lolo Pass on the Montana/Idaho border and through the wild and scenic Clearwater National Forest. I had frequented the cross-country ski trails and soaked in the hot springs near the pass when I was a journalism student at the University of Montana back in the '70s, but I had never continued on down the road.
Initially we were concerned that the twisty highway down from Lolo Pass would include hairpin turns like those on the Pacific Coast Highway–but steeper. Those concerns evaporated when friends we visited in Missoula commented that the road is a favorite of motorcyclists who relish its big, swooping turns. The drive did not disappoint; breath-taking scenery materialized around every bend. And with winter approaching, the Western Larch trees were ablaze with golden yellow against the dark greens of the pine forest. This was also Julie's first trip down Highway 12. At a stop before getting up the pass, Julie was amazed at the intense smell of cedar. It was a smell she said she thought existed only in holiday candles and car air fresheners. For me, it took me back to hiking trails, deep-woods camps and wild-ass parties in the mountains during my college days.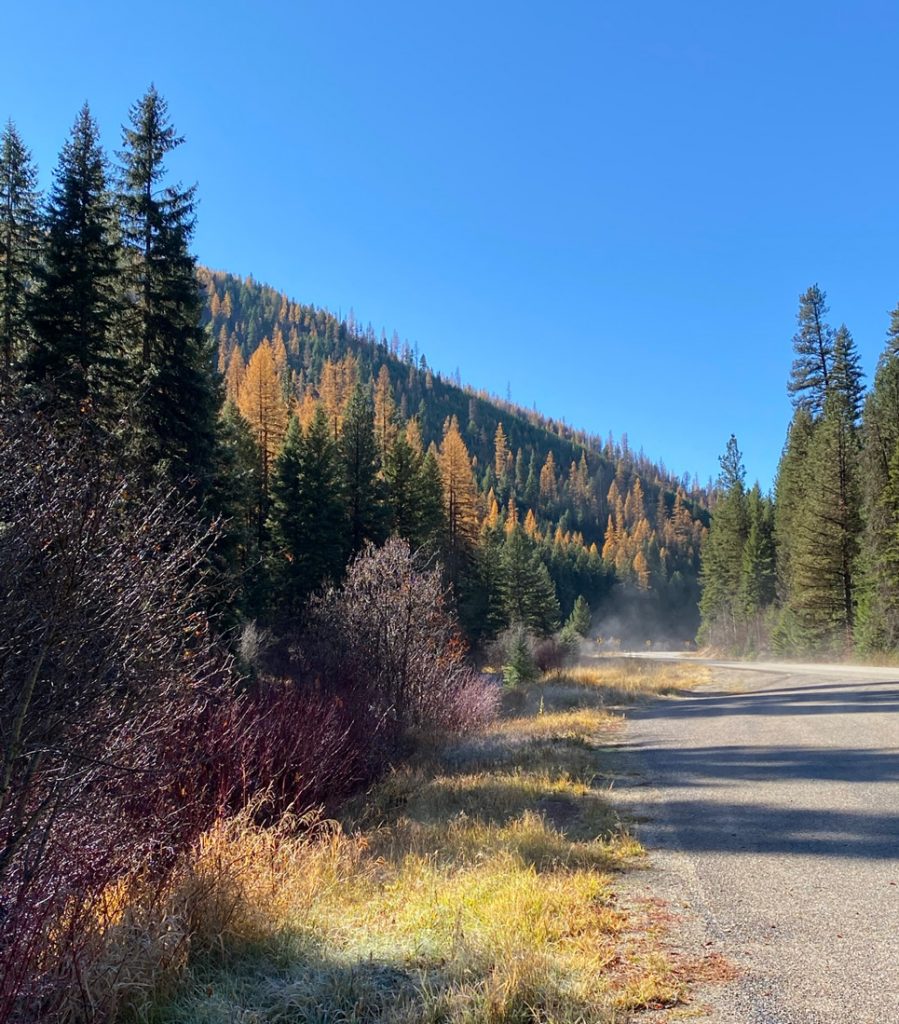 Lochsa Lodge
On the advice of our Missoula friends we stopped for lunch at the Lochsa Lodge, a year-round resort 20 miles (and 40 minutes) west of Lolo Pass. The resort includes assorted vintage raw-wood cabins, RV and tent campsites and a log-built lodge. Scattered among towering cedar trees along the wild and scenic Lochsa River. Dating to 1929, the main lodge was rebuilt to original specs after a fire in 2002. It is still as wild-West authentic and -rustic as it gets. Julie and I lunched on bison burgers and excellent chili amidst assorted naturalist taxidermy and animal skins attached to the rough-hewn walls.
Lochsa, Nez Perce for "rough water," joins the Selway River downstream to form the Middle Fork Clearwater River. The Middle Fork then meets up with the South Fork forming the main Clearwater River. We overnighted in Orofino, ID along the Clearwater River at a shallow water crossing used by Nez Perce and Salish Indian tribes. Statues depicting Native Americans preparing to cross the river are positioned near the entrance to the RV park. The crossing is just above the river's confluence with the North Fork Clearwater River. A couple miles up the North Fork is the massive Dworshak Dam, the third tallest dam in the U.S. and the tallest straight-axis concrete dam in the Western Hemisphere–whatever a straight-axis dam is.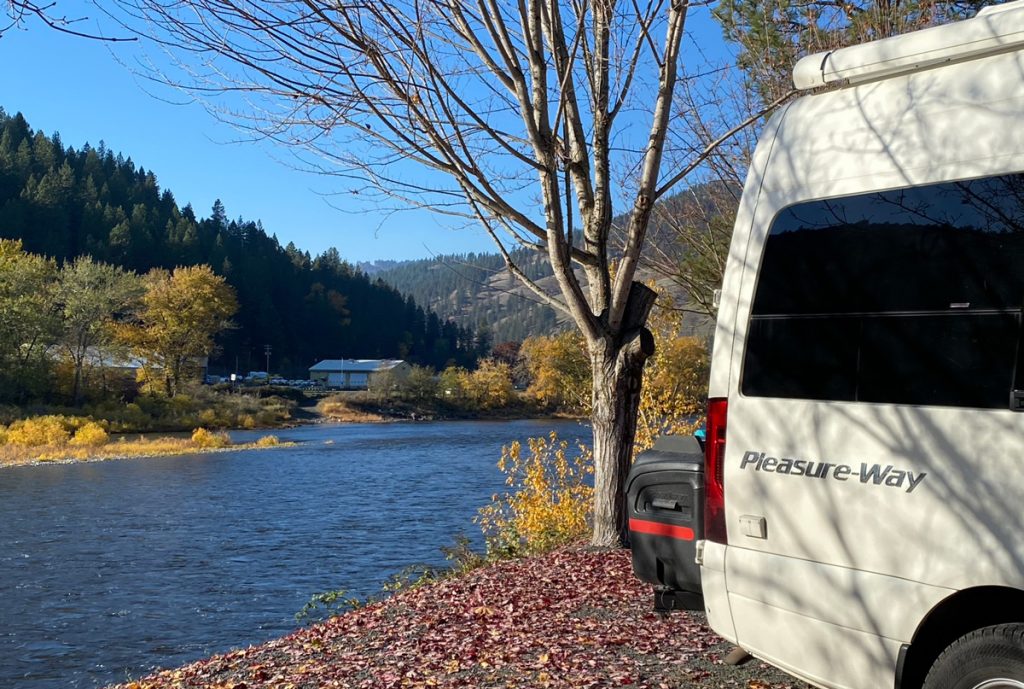 Bucket List
Further on down the road are the famous Walla Walla Valley vineyards and wineries just beyond Idaho in Washington. A visit to the area has been on my bucket list since world-class wines started filling glasses in the late 1900s—long after I left Montana.
When I lived in Missoula and up in the Flathead Lake area to the north, I knew little or nothing about Walla Walla beyond its famous sweet onions. From a soils class I took at U of M, I was aware that agriculture in the area benefitted from silt, rocks and lava deposited there when a glacial lake in Montana burst across southeastern Washington some 15,000 years ago.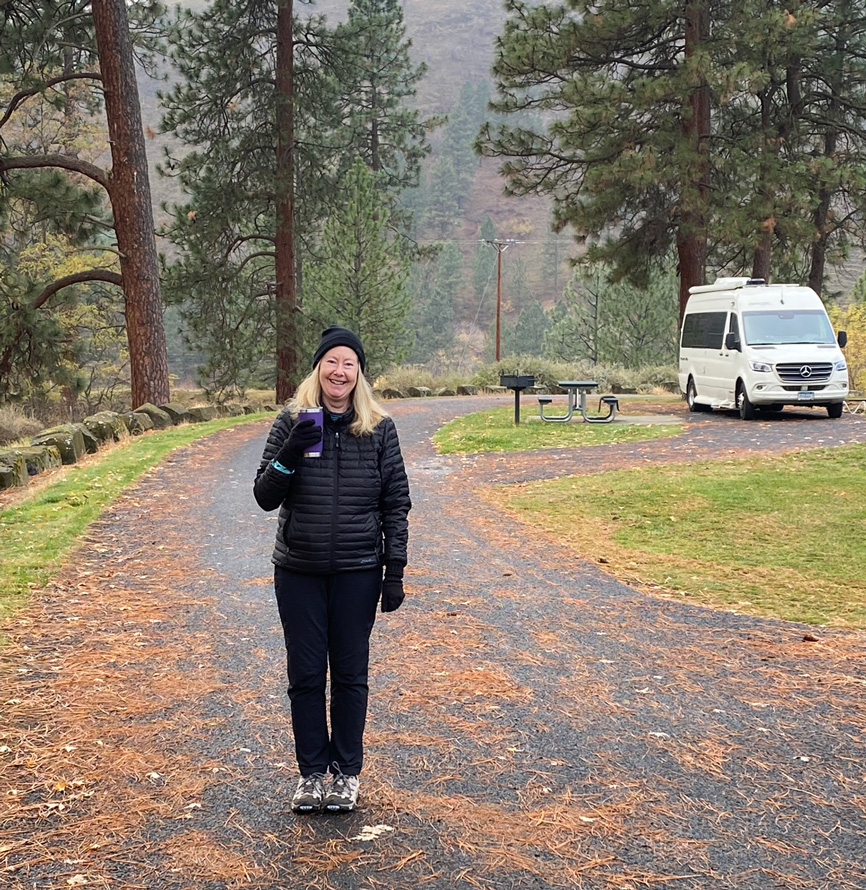 Fertile Grounds
Glacial Lake Missoula formed when a finger of the massive Cordilleran Ice Sheet to the northwest created an ice dam 2,000-feet-high at the mouth of the Clark Fork of the Columbia River. The dam was where Lake Pend Oreille now exists along the northern Idaho/Montana border. The Clark Fork River drains much of western Montana, including the Flathead and Bitterroot River basins, and the dam blocked the Clark Fork. As warming temperatures began melting the glaciers, water in the Clark Fork watershed backed up behind the dam. Glacial Lake Missoula covered as much as 3,000 square miles with an average depth of 800 feet of water. At its largest, Lake Missoula may have included about the same amount of water as Lake Erie and Lake Ontario combined!
Rising temperatures weakened the ice dam as the pressure of the growing lake increased. Geologists say cracks in the glacial finger caused it to collapse, resulting in a cataclysmic flood that raced down Idaho valleys and spread across the flatlands of southwest Washington. It is thought to be the biggest such flood in the history of the planet. Talk about your rough water! The Lake Missoula flood was slowed by the Wallula Gap in the Columbia River Gorge. This allowed sediment to settle and transform the topography of the Walla Walla valley.
After the initial collapse, the ice dam slowly rebuilt, recreating the glacial lake. At some point the dam burst again and flooded southwest Washington again. Geologists say that this sequence recurred as many as 60 times over 2,000 years and dramatically transformed the Walla Walla Valley.
Washington Wine Hopping
Fast forward a few millennia and Julie and I rolled into Walla Walla for a couple days of winery hopping. The name, Walla Walla, comes from a native term meaning "many waters," referencing the rivers that converge there to flow into the Columbia River. When Lewis and Clark passed through, they called the local Indian tribes Walla Walla. Now, with over 120 wineries in the area, Walla Walla has come to mean "many wines."
We arrived in Walla Walla on a Tuesday. I already had a several wineries in mind to visit when we arrived. Unfortunately, we found that many wineries were not open certain weekdays this time of the year or required reservations. Some of these were wineries familiar to me: K Vintners/Charles Smith Wines, Northstar Winery, Dusted Valley and Canvasback among them. Most of these closed wineries included selections I sold when I worked part time in Minneapolis wine shops. Others had wines I sampled when the Washington State Wine Commission held tastings for Twin Cities retailers and select employees.
We did get to visit half a dozen wine rooms over two days. Wineries we visited included Dunham Cellars, L'Ecole No. 41, Cougar Crest Estate and Woodward Canyon. Most of the wines were quite good—but then tasting rooms were not going to be presenting their clunkers.
The Tastings
Dunham Cellars' tasting room was our first stop. Located in a former World War II airplane hangar near the Walla Walla airport, the high-ceilinged room offered numerous seating options including a banquet table with 14 chairs! Even more impressive was the bottle tree anchoring the room. The pine-shaped tree reportedly holds over 500 empty bottles of wine. Julie and I settled into comfortable overstuffed leather chairs with a low glass table adjacent to the bottle tree and sampled away.
L'Ecole No. 41 is the first Walla Walla wine I recall encountering, so I was thrilled to be able to visit this historic and venerable winery. Located in a former public schoolhouse attended by the children of French settlers in the area, L'Ecole No. 41 has been producing well-made French-inspired wines–including award-winning Bordeaux-style wines–since the early 1980s. I was relieved to be seated at a small table with a comfortable chair and not one of those butt-breaking wood-and-metal unitard desks I recall from elementary school in the 1960s. We sampled some tasty reds at L'Ecole.
Cougar Crest Estate was an accidental discovery on our way to another winery. Cougar Crest is housed in a modern Prairie design structure with soaring clerestory windows that let in plenty of light and air. Like many wineries, Cougar Crest has a mascot. It's not a cougar, as the estate name might suggest, but a member of the Felidae family nonetheless. The mascot is a gray-and-white tabby cat ironically named Whiskey. We were introduced to the widest range of wines of any winery we visited in Walla Walla, including a nice Port.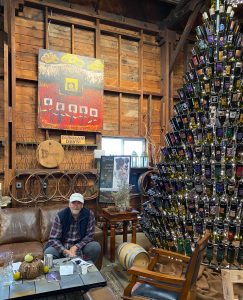 We came away with bottles—mostly reds–from the named wineries we visited. Our selections included some to ship back to Minneapolis for long-term storage. We did not visit the tasting rooms in downtown Walla Walla. Parking in our 22-ft. RV is sometimes a hassle in shopping districts. The missed wineries and the downtown wine district warrant a return visit with better timing in the future. All in all, Walla Walla was a worthwhile stop.
Heading Further West
From Walla Walla we braved high winds and drove 80 miles west to Prosser, Washington, south of Yakima. There we boondocked overnight at Barrel Springs Winery, a picturesque winery that allows RV travelers to park overnight. Julie has found several businesses like Barrel Springs Winery through an online app called Harvest Hosts. We've parked overnight at farms, breweries and wineries in exchange for buying produce, or beer or wine from the hosts. Barrel Springs turned out to be a gem with an affable host, some nice wines and very reasonable prices.
Worrisome weather forecasts–and an opportunity to rendezvous with old friends–prompted us to cross the Cascade Mountain range and end our trek on the Washington Wine Trail.