After botching Sunday night's meal of Mexican Cornbread Casserole–when I absent-mindedly used cornmeal instead of cornbread mix, for which I blame our guest Dewey's Manhattans—I redeemed myself tonight by grilling a couple pieces of wild-caught salmon (one Copper River, the other unidentified, but thicker and milder). I briefly marinated the salmon in a brown-sugar-and-soy-sauce concoction.*
We are parked in a slip at Kemps marina in Sault Ste. Marie, MI. We braved the Canadian locks yesterday with no incidents and no slimed or abraded fender covers. Alongside the salmon I grilled my new favorite broccoli and lemon dish** and reheated some leftover basmati rice with thyme. We opened a nice bottle of Block 9 Pinot noir to work its magic with the salmon. It worked. The Pinot was medium bodied with a good dark berry and slightly earthy nose. Black pepper punctuated the berry and cherry fruit basket on the tongue. Quite nice for a $15 California Pinot noir.
Dessert was dark-chocolate-covered Dilettante Bing cherries
fresh from the freezer. Total redemption from last night's less than stellar repast.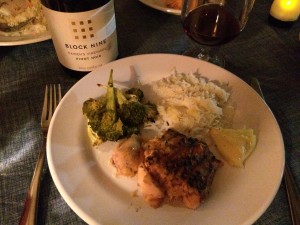 *Quick Marinated Grilled Salmon
4 Servings
Ingredients:
2 pieces Salmon—preferably wild caught Alaskan
¼ cup brown sugar
¼ cup low-sodium soy sauce
¼ cup water
½ tsp lemon pepper (or lemon juice and/or zest and fresh ground pepper to taste)
½ tsp garlic (ground, minced or fresh)
Sea salt and freshly ground pepper to taste
Directions:
Mix the last 5 ingredients in a bowl or pan. Place salmon in marinade for 20 minutes—cover both sides and turn occasionally.
Prepare grill–moderate heat. For easier clean up put a little cooking oil on a paper towel and oil the grate. This can also be prepared in an oven—350-375 degrees –with a raised grill insert in an oven-safe pan. Put some foil or parchment paper in the bottom of the pan for easier cleanup. Both can be reused several times.
Grill the fish skin-side up for 6 minutes the turn fish and grill skin-side down. Pour marinade over the fish for extra flavor. Grill another 6 minutes or so, depending on thickness of fish.
Top with freshly chopped parsley. Serve with any sides you like. Particularly good with mixed grilled vegetables and any kind of rice.
An excellent variation is to add freshly grated or even ground ginger to the marinade.
**Grilled Broccoli and Lemon
Serves 4
Ingredients:
1 medium size Broccoli head—cut stalk(s) into spears, flower tops halved or quartered
1-2 Lemons – quartered
¼ cup Olive oil
Salt and pepper to taste
Directions:
Toss broccoli and lemon wedges in half the oil and salt and pepper.
Place broccoli in grilling basket; hold lemon. If cooking over open flame, line with foil to curtail flareups. Otherwise the broccoli can be placed directly on the grate to mark.
Cook for about 15 minutes, turning occasionally.
Add lemon to broccoli or place directly on grill for last 10 minutes.
Remove broccoli to serving dish; toss with remaining oil. Squeeze 2 lemon quarters over broccoli, tossing. Be mindful of seeds—they will be bitter if bitten into. If lemon is too hot, handle with paper towel. Reserve remaining lemon to squeeze over broccoli to individual taste. Be mindful of lemon seeds. Salt and pepper to taste.
A variation would be to add ground garlic or garlic salt while tossing broccoli and lemon with oil. Do not use fresh garlic; it will overcook and turn bitter.
(Credit RealSimple.com)
July 6, 2015     Sault Ste. Marie, MI