My sister recently commented that Dan and I live a glamorous life. Yes, there are moments – quite a few actually. But there are also times where it helps to have a sailor's attitude and be willing to change course when plans go out the window.
"You cannot change the wind, but you can adjust the sails."
Cancelled Sits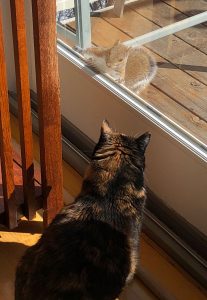 Just like the weather, you can't control what happens in the lives of homeowners where you are scheduled to sit. We've had scheduled sits canceled with no reason given by the owner – fortunately it was several months ahead of time. And we've had sits cancel due to medical reasons – but the homeowners kept us informed well in advance.
Most recently we've had the unfortunate experience of learning that a homeowner passed away. And since this was a repeat sit, quite difficult to accept as her passing was unexpected and very quick. Damned cancer.
However, her husband still wanted us to keep our scheduled sit in Golden Valley MN. Then he broke his ankle slipping on some ice. And with that – everything went up in the air.
Changing Course
We were scheduled to spend some time in Laguna Beach at a friend's place during the first three weeks of January. Just prior to our Golden Valley housesit. A vacation from our vacations. The Golden Valley housesit still wanted us, but no longer on January 21st. More like early to mid-February. After he had time to recover from the surgery required to fix his broken ankle.
Using most available modern methods of communication – phone, voicemail, FaceBook – I reached out to my friend Brodie (who has the place in Laguna) to apprise her of the change. It had the potential to muck up our Laguna visit. As it turns out, her sister was in need of a housesitter in Santa Barbara for her pooch and cat.
A Plan Forms
Within two hours and a series of phone calls, we delayed the date of our return from CA and instead of spending the entire time in Laguna Beach, we are now adding in Santa Barbara. And the Delta agent, upon hearing that we were helping take care of pets, waived all change fees. Amazing!
And just like that – our course adjusted to a new heading!