Julie and I escaped the 2019-20 Midwest winter by house/pet sitting and traveling on the West coast. We started this West Coast respite in Washington, north of Seattle, with back-to-back sits on both sides of the Puget Sound in early October. Our coastal sojourn ended in Laguna Beach, California in March. In between we drove south along the coastal highway with diversions to Portland and inland CA to visit friends. House sits along the way included Fort Bragg in Northern California and Santa Barbara on the California Riviera. Both places were mere blocks from Pacific Ocean cliffs and beaches.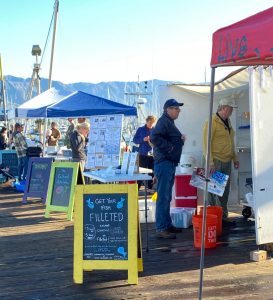 Besides enjoying the amazing scenery and exponentially milder weather on the Coast, we ate fabulous fresh fin- and shellfish. Several times a week. From Dungeness crab and oysters up north to black cod and tuna and all the fresh shrimp and scallops we could handle in SoCal, the winter was a veritable movable sea-feast for us.
Then Coronavirus raised its ugly head. We scuttled planned visits with friends in Arizona and made a mad dash to southwest Ontario and 14 days of quarantine in late March. We are sequestered in Goderich, Ontario, a small town on the coast of Lake Huron. The mandated isolation limits easy access to any food, let alone seafood. After our arrival, Julie and I were soon Jonesing for fresh fish. When we discovered the nearby meat market carried fresh Lake Huron pickerel, we jumped at it.
Bottom Fish
Before I continue, a confession: I don't cook a lot of freshwater fish. My first exposure to fish growing up in rural western South Dakota was carp, channel catfish and bullheads. Mud-sucking trash fish. Of that selection, the only thing fish we caught and ate were bullheads. Yeah, those slimy mustachioed bottom feeders were the least trashy fish my brother and I could pull out of the section of the Belle Fourche River that ran through the family farm. We used to bread and fry bullheads in a pan over an open fire and serve it up with some fresh-picked ears of field corn before it hardened up. Not exactly gourmet fare, but we didn't know any better. We were occasionally served fish sticks at home and at school and canned tuna turned up in sandwiches and casseroles. Sometimes we got battered deep-fat fried shrimp in local diners—but that was the extent of my early exposure to fish. Sorry, Charlie.
During my college years, I spent a summer working in the kitchen of a seafood restaurant on Cape Cod, back East in Massachusetts. That experience yanked me to the other end of the piscatorial culinary spectrum: fresh Atlantic seafood like tuna, cod, bluefish, lobster and all manner of shellfish. It was an amazing experience. One morning I was dragged downstairs from the restaurant by the Portuguese chef and the Greek owner of the restaurant. The lower level housed a fish market owned by my boss's Italian husband. A fresh-caught tuna had just arrived. It was the size of a fatted steer. Holy horse mackerel! That summer not only expanded my piscatorial horizons, it opened my eyes to whole new culinary dimensions. So, desperate for some fresh fish this week I brought some Lake Huron pickerel back to our detention chamber and began pondering how to prepare it.
Walleye or Pickerel?
While searching the Internet for pickerel recipes, I learned that what I brought home was not actually pickerel. True pickerel is not found in any of the Great Lakes. What Canadians call pickerel is actually walleye. Pickerel is in the pike family; walleye is a perch. Walleye is found in waters throughout the Midwest and the Great Lakes basin and is prized as a sport fish. Walleye is the official fish of South Dakota and Minnesota. It is also the official fish of Saskatchewan and Manitoba, except the locals persist in calling it pickerel. Pickerel is not the official fish of any province—including Ontario, which does not even have an official fish. Having lived in Minnesota most of my adult life, I have cooked and eaten walleye many times. Ironically, I was always told its real name was walleye pike!
Having established the true nature of the quirkily named fish I had just purchased, I came across a walleye recipe I had never tried before. It called for baking the fish in lemon butter, a departure from the usual bread-and-sauté process I was familiar with. It also called for baking it with sliced mushrooms and green onions. Being in lockdown in a small town, I couldn't just run out and find some green onions and regular onions would overpower the flavor of the fish, so I used what I did have on hand: shallots. I also amended the recipe with some French tarragon, and upped the game with a sprinkling of Trader Joe's 21 Seasoning Salute. For sides, I sautéed broccoli and cooked some black rice in chicken broth—things I make fairly often. I thought it turned out pretty good; Julie's response to the walleye was, "OMG, that's fabulous!" She insisted I add my treatment of the fish to the blog and promise to make it again. The "pickerel" did satisfy our need for fresh fish, even if it wasn't from the West Coast. That means I'll probably have to start fishing for walleye/pickerel if/when Gaviidae gets launched this year.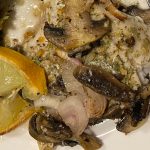 Print
Walleye Baked in Lemon Butter
Fresh caught walleye dressed with some olive oil, salt and pepper and tossed on the grill or in a hot cast iron pan is the classic treatment of this tasty fresh-water fish. A little fresh-squeezed lemon juice and butter further enhances the delicate flavor. Judiciously toss in a couple pinches of herbs, some mushrooms and shallots and bake it all together in an oven and the walleye enters a whole new dimension.
Ingredients
1/2

lb

Walleye fillet

6

tbs

Unsalted butter

1

tbs

fresh lemon juice

Plus several slices of lemon

1/3

cup

White mushrooms

Sliced

1 1/2

tbs

shallots

Sliced or chopped

1/2

tsp

Dried French tarragon

Can sub with dill for a more subtle touch

salt and pepper

Or salt and lemon pepper, to taste

fresh parsley

Italian or curly, chopped
Instructions
Preheat oven to 350 degrees F. Find a shallow baking pan.

Melt butter with lemon juice, salt and pepper. Pour 1/2 of mix into baking pan, then dip walleye fillet in butter to coat both sides. Place fillet in pan skin down.

Sprinkle fish with tarragon; top with lemon slices and add mushrooms and shallots.; pour remaining lemon butter over assembled ingredients.

Cook fillet in oven 15-20 minutes--until fish flakes when probed with a knife or fork.

Remove fish from oven and serve immediately.
Notes
Note: Additional or alternate seasonings can include French thyme, smoked or sweet paprika, dried Italian herb mix. I topped the assembled ingredients with a little Trader Joe's 21 Seasoning Salute. Be judicious with the seasonings--you want to complement the delicate flavor of the walleye, not overwhelm it.
Serve with a little chopped parsley for color and a little parsley zing.